Contemplating 2017 Jewelry Trends
Just for fun I have watched many, many runways shows and read blogs, blogs, and more blogs about the 2017 predictions for jewelry trends. It's always interesting to me to see how the truth-slayers mesh with the coutourists and I have to say that they are right on the mark for our favorite trends! So this little blog and video are our eight takes on what to expect, what to look for, and equally important, how our peerless pearls really will accentuate your 2017 ensembles in the most stylish ways! We will show you our pearl jewelry in relation to other trending jewelry pieces.
So glimmer and shimmer in our takes:

---
Statement Necklaces: All Eyes on the Neckline
OK so we're not talking the type that Gayle wore and Oprah really, really needed to chide her about, but color infused with style, texture and luminosity, so that the admiring eye naturally comes to rest on the necklace.
So CHOOSE necklaces of flowing colors, creative style mixing gems, stones, and chain, as well as our favorite, pearls: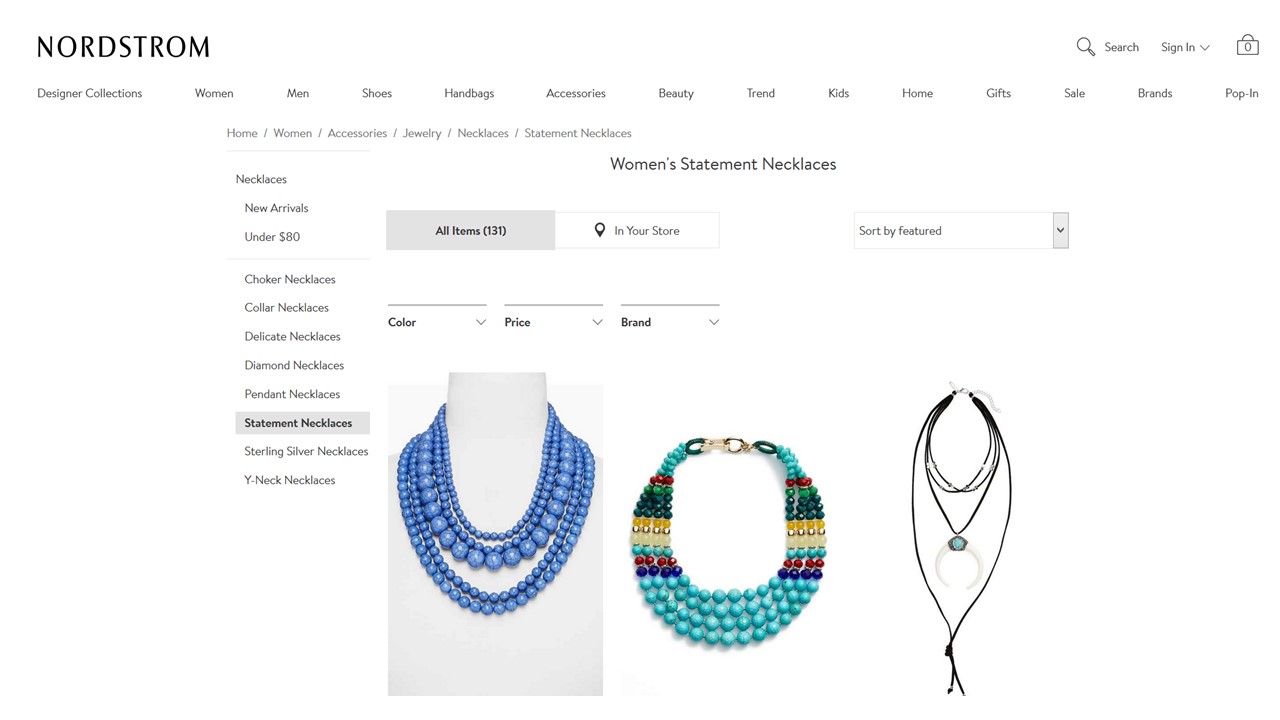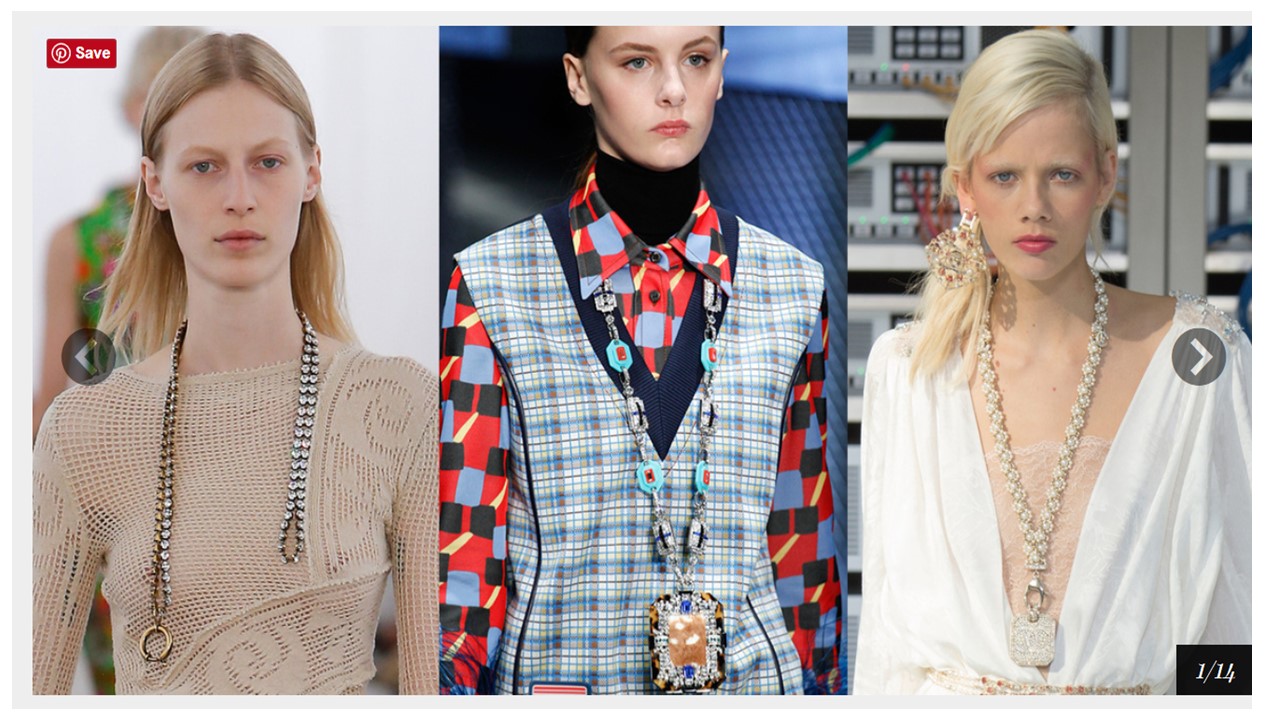 Statement necklaces courtesy of JEWELRY RUNWAY TRENDS -14 jewelry trends from Fashion Week Spring/Summer 2017 "Photo: Balenciaga, Prada and Chanel Spring/Summer 2017 "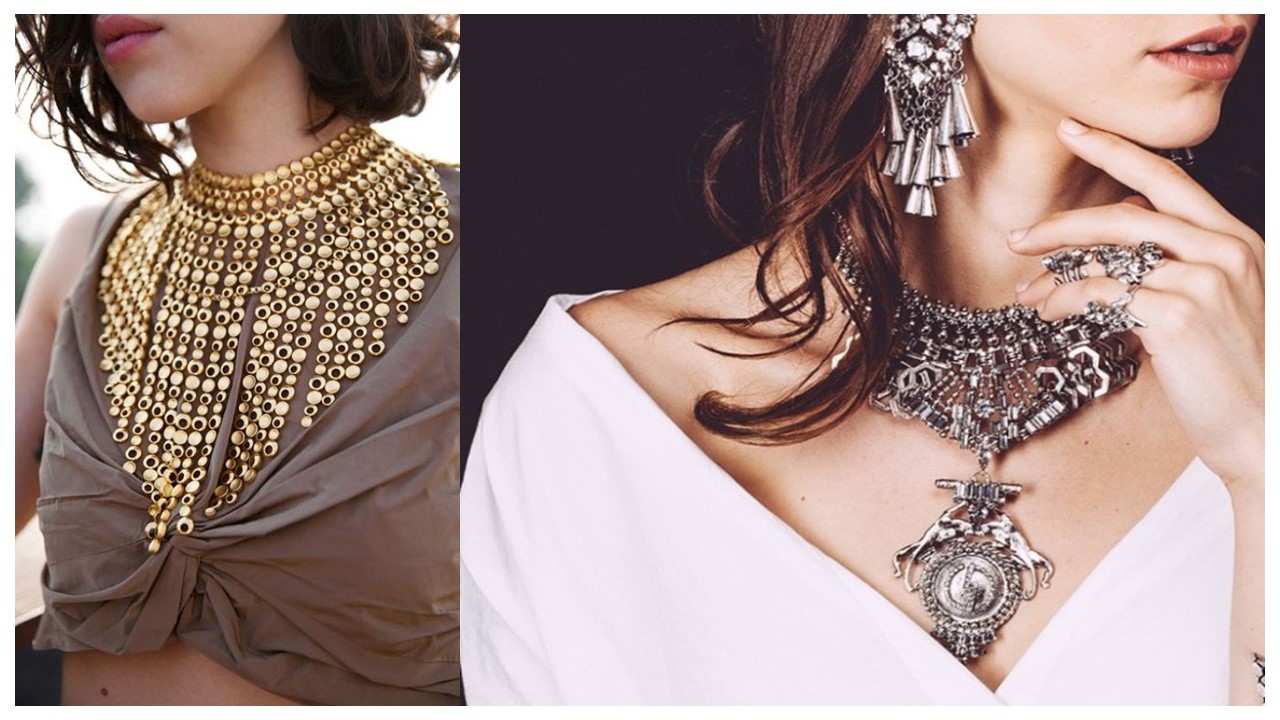 Statement necklaces from 23 Most Breathtaking Jewelry Trends in 2017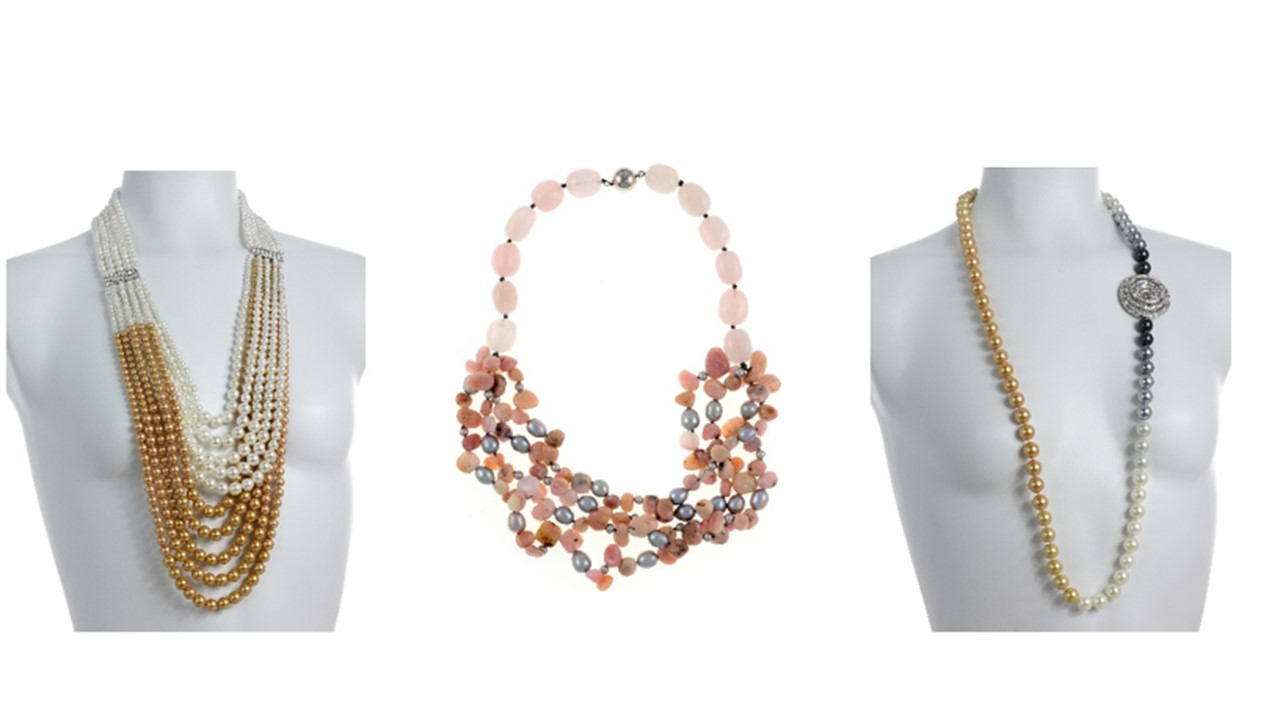 Naughton Braun Super-Statements: Potala Palace, Maldives, and Pennsylvania Avenue.
Instead of this: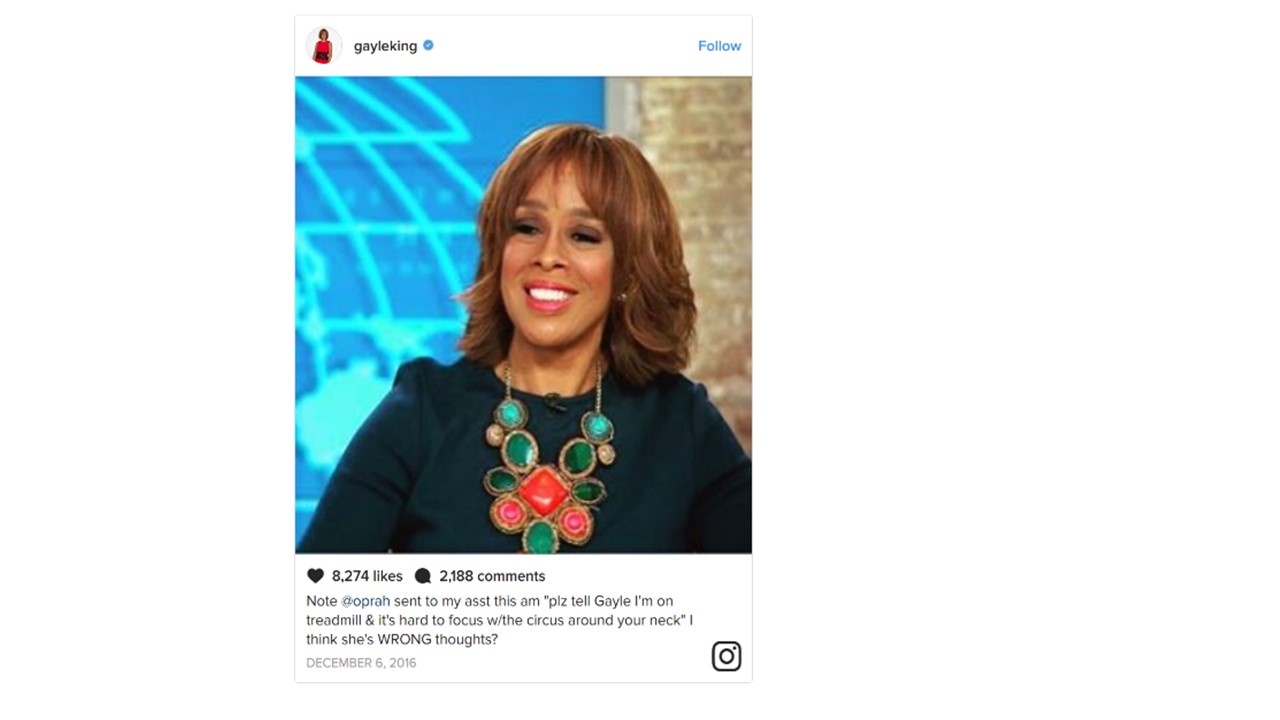 We really love you Gayle but you really need to come for us for some power jewelry ideas!
---
Robust Return of Sautoir Elegance
After a somewhat lengthy hiatus due to the predominance of the choker, the long rope, lariat, or sautoir necklace style has made its way back and we welcome it. According to Brittany Siminitz these long necklaces often are "adorned with gemstones or other charms, a sautoir typically (or at least, by definition) has some form of a pendant hanging from it, but the word loosely describes all of the pieces here. Longer necklaces have been rising in popularity again, particularly in the form of chains that can be wrapped multiple times and lengthy chains with dangling pendants." Just a note, longer necklaces can easily be recreated and hence restyled into your go-to choker or princess style necklaces with a converter (a little metal ring with a latch), essentially giving you multiple looks for one price! Now that is something to consider when purchasing any necklace.
Looks we love from Brittany include:
Hello, Sautoir: Necklaces That Go the Length inStyle

Sophisticated Sautoir Looks we Love that we do for Less: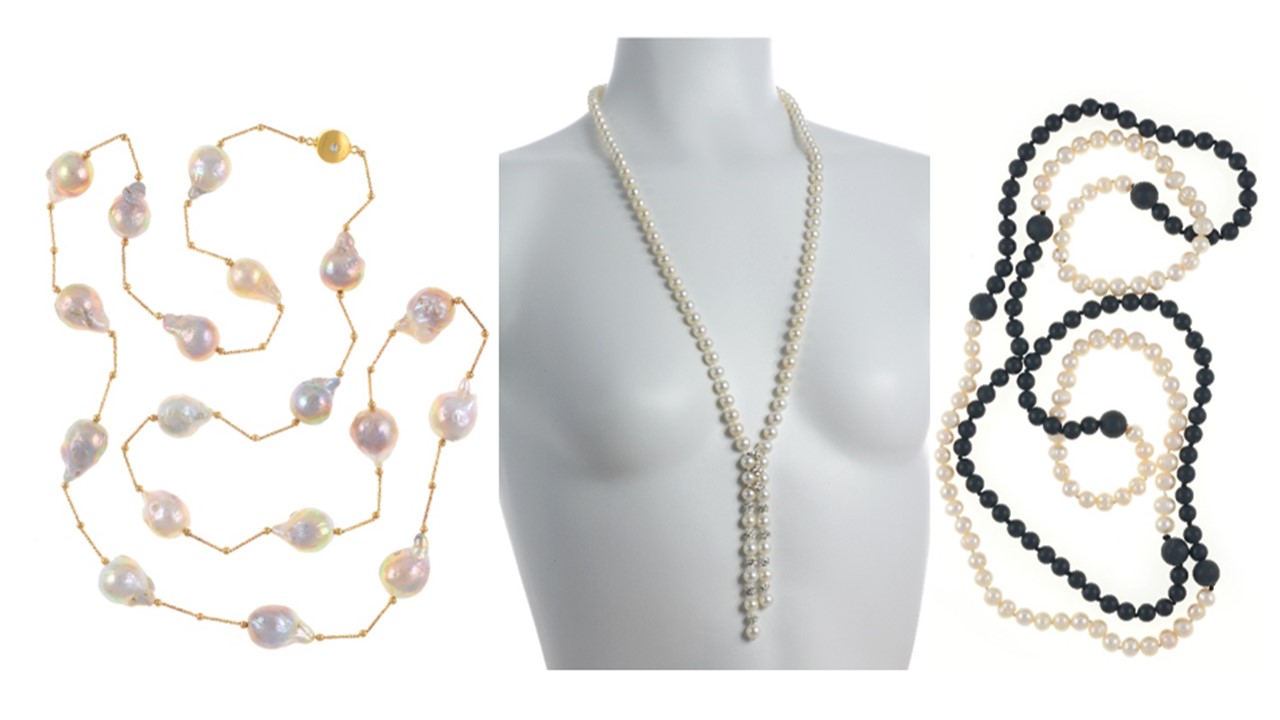 Appalachian Spring $800.00 Diamond Falls $550.00 Copacabana Promenade I $120.00

Luminous biawa pearls accentuated with brass spacers, re-imagined white freshwater pearls dripping with CZ sparkles, and untumbled black onyx with fresh white pearls dominate the Naughton Braun long necklace selections. Want to up your sautoir look?
---
South to Southwest: 1970s/1980s Bold Color
Think pumpkin, that ubiquitous avocado green, and harvest yellow (who doesn't remember those kitchen appliances) transitioning to orange-brown and turquoise which inspired a whole generation of Taos artists. Feel warm browns and earthly indexes, maybe even some talisman-type accents. Since variety is the spice is the life, we hope these hot choices will inspire you to try a new menu!
Top: 2017 Jewelry Trends: Hot Styles for the New Year
Bottom: 23 Most Breathtaking Jewelry Trends in 2017, Quetzal Beaded Earringsfrom Anthropologie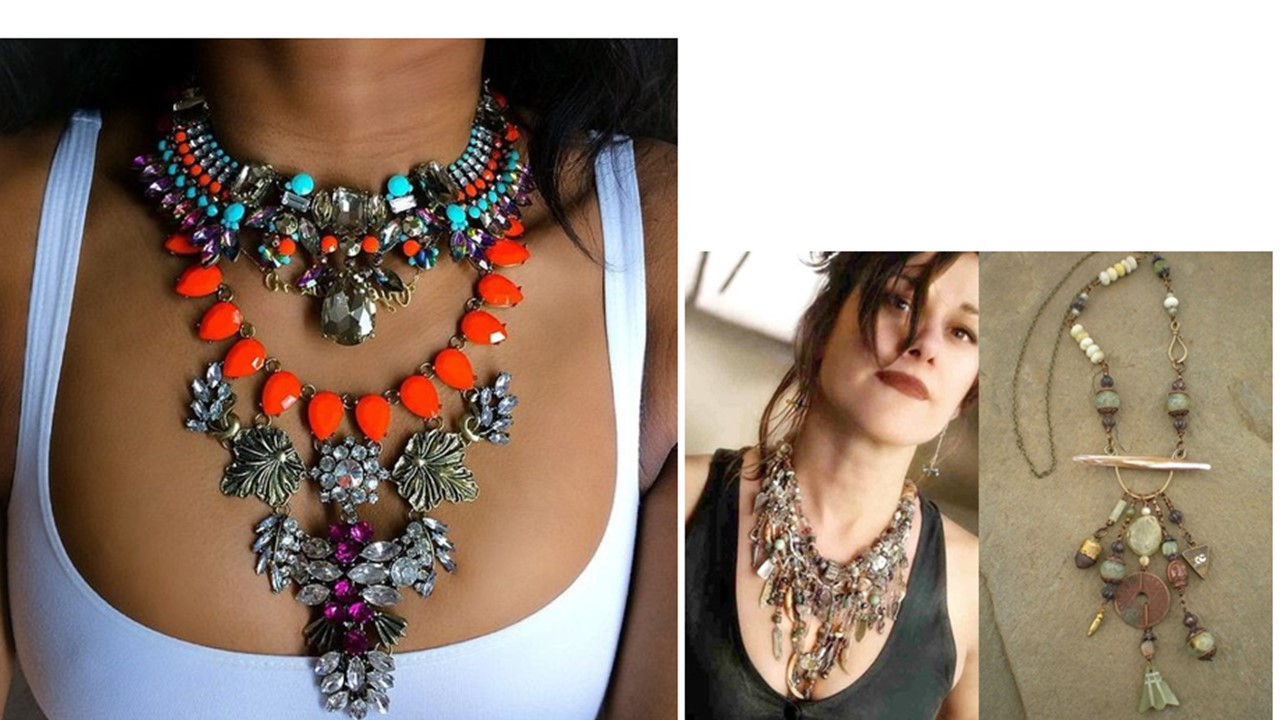 Left to right: Pinterest Big Necklaces, Jewelry Trends for Fall 2017
Bold color gemstones pair well with pearls too, including naturally colored greys to silver freshwater pearls, purple-gold biawa pearls, brown and cream potato pearls, creating truly delightful inter-plays of color and texture so imperative for Big, Bold LOOKS and exciting pairing options with your favorite blue jeans or suit.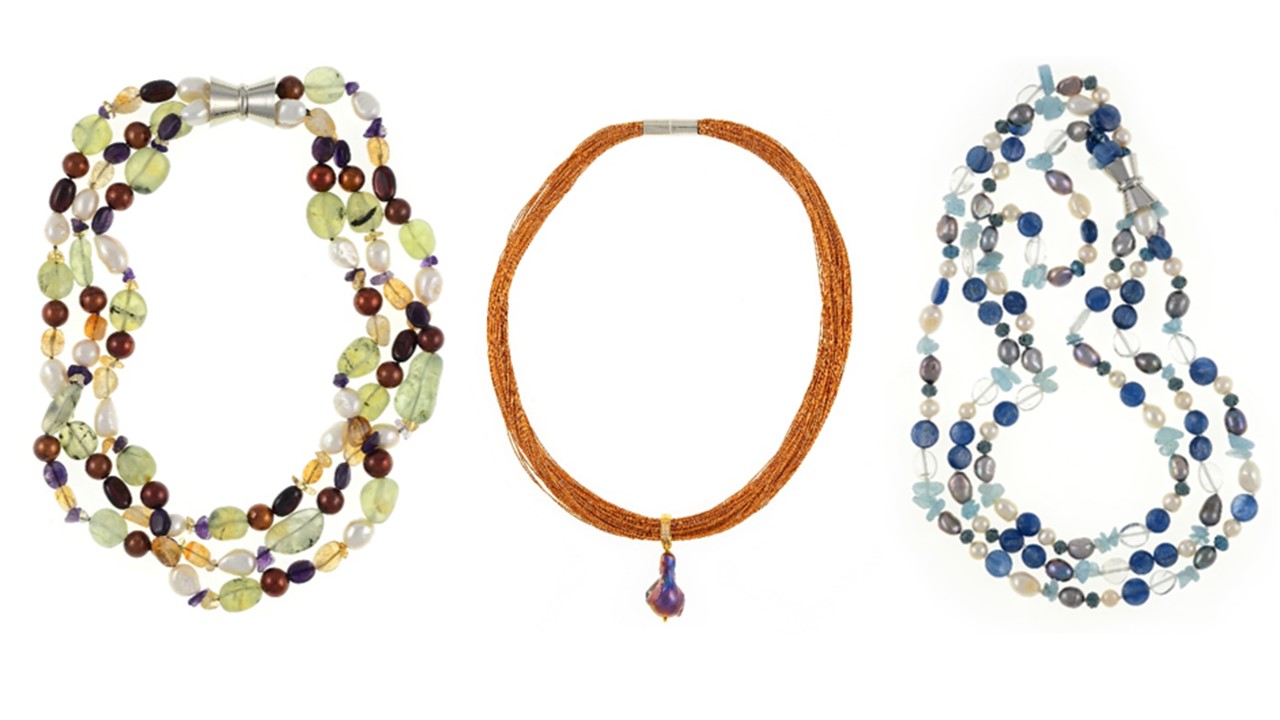 Left to Right Naughton Braun Cascadia, Danxia Pumpkin Silk with Black Biawa, and Santorini
---
Multilayered Necklaces = Marvelous Fun
So you have necklaces in a jewelry box that have been there since…. Oh, you don't remember. Well now is the perfect time to get them out and try your hand at adding one, two, three, four, you get the idea, maximum layering for the trendiest multilayer look around. According to Anush Hovhannisyan, "The forthcoming multilayered necklaces are mainly metallic with two, three or four tiers cascading down and full of some knick-knack charms like we see at Valentino and Etro or showing off some disheveled chain layers dropping down from chokers like at Alexander McQueen. For the most exquisite multilayered necklaces, lay a bet on those pearly intricate ones at Chanel."And you bet Anush that we love the Chanel pearl avalanche that has been showing up on runways everywhere! Remember layering is not exclusive to the front, but draped necklaces with a back-bearing dress is so simply sexy that you will catch their eye coming and going! And finally, Missoni has featured some really chunky, warm toned layered looks sure to create elegance overload that would even compliment the athleisure look!
So see what you have, and then let the savvy stockists at Naughton Braun add just that perfect missing pearl piece to create the multilayer ensemble perfect your next outing.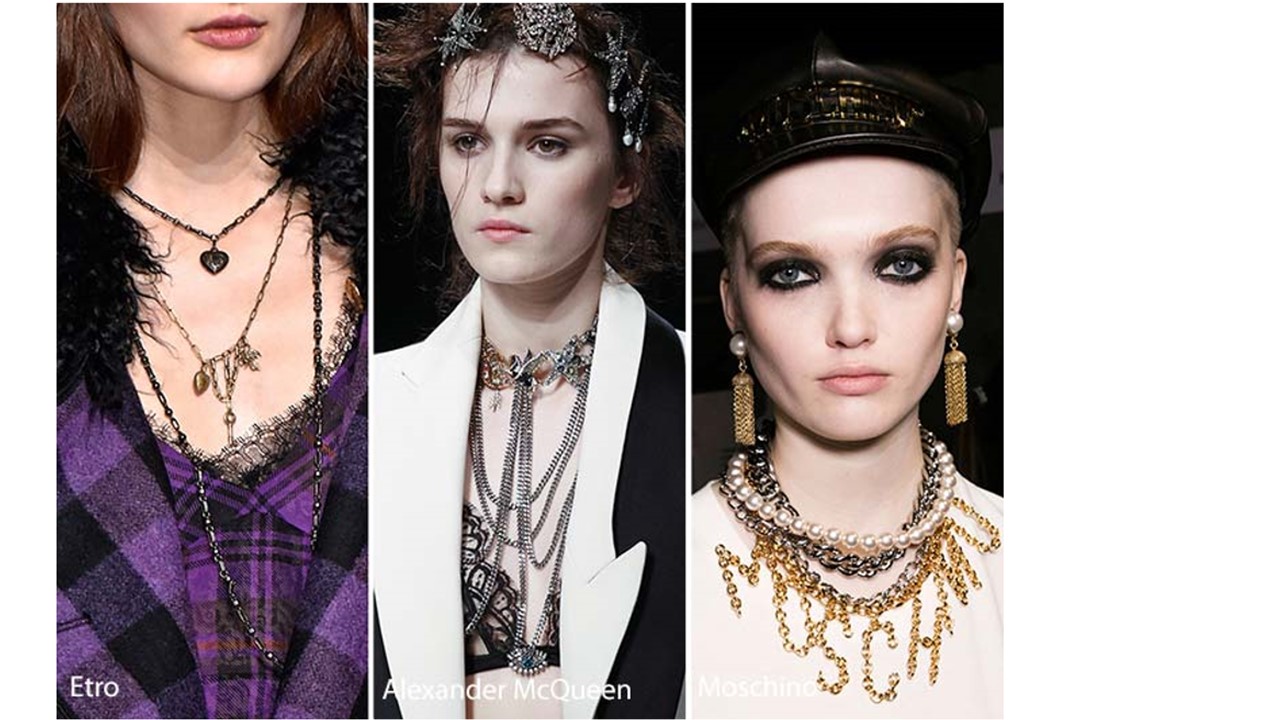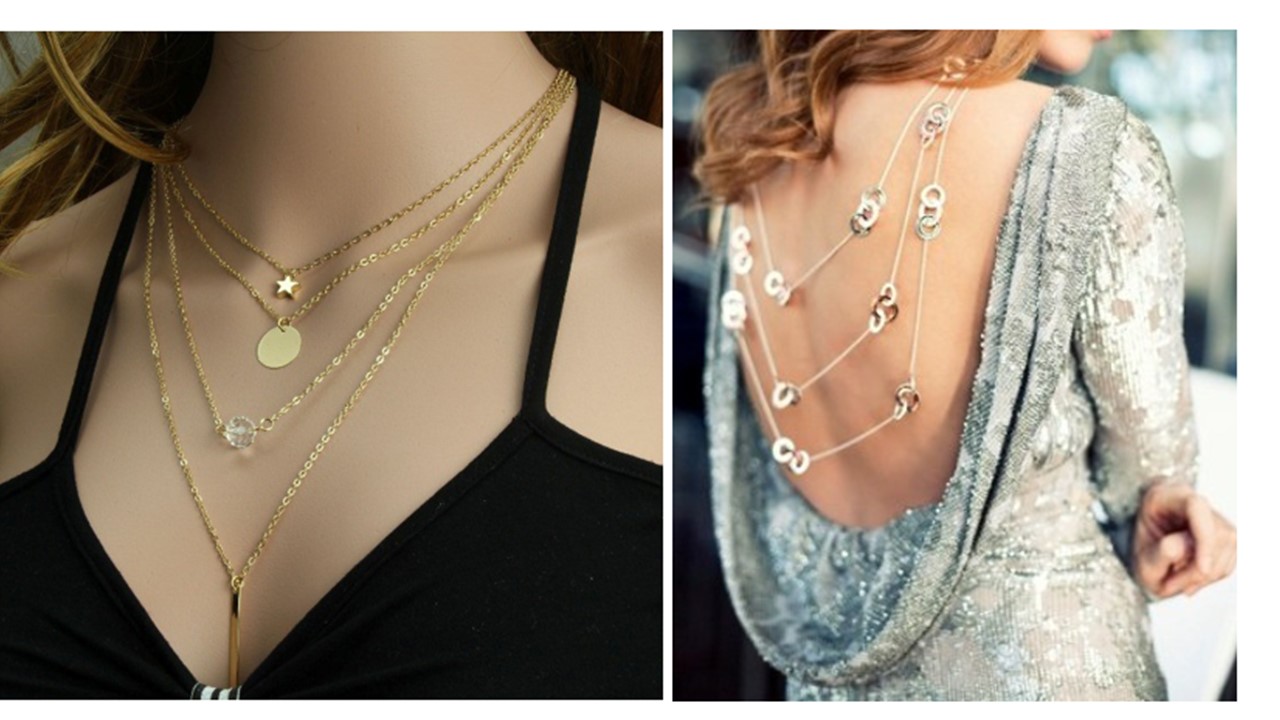 23 Most Breathtaking Jewelry Trends in 2017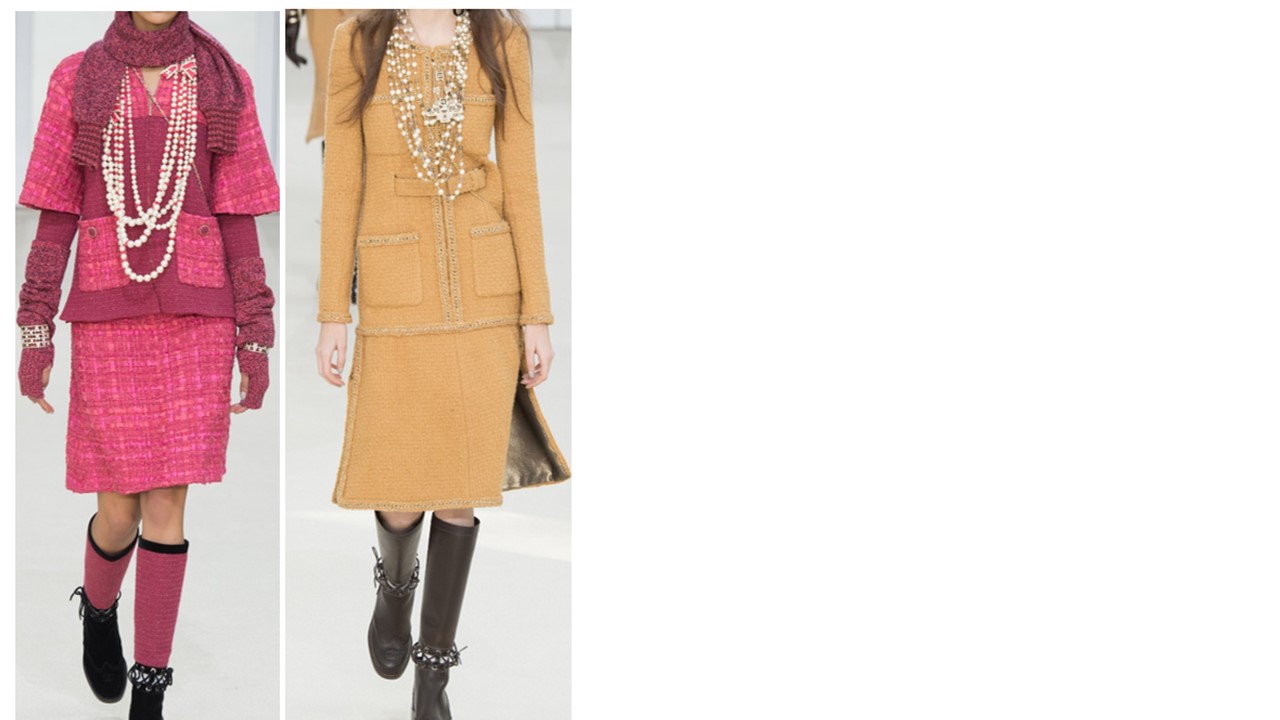 Ready-to-Wear Chanel, multi-rope pearl extravaganza!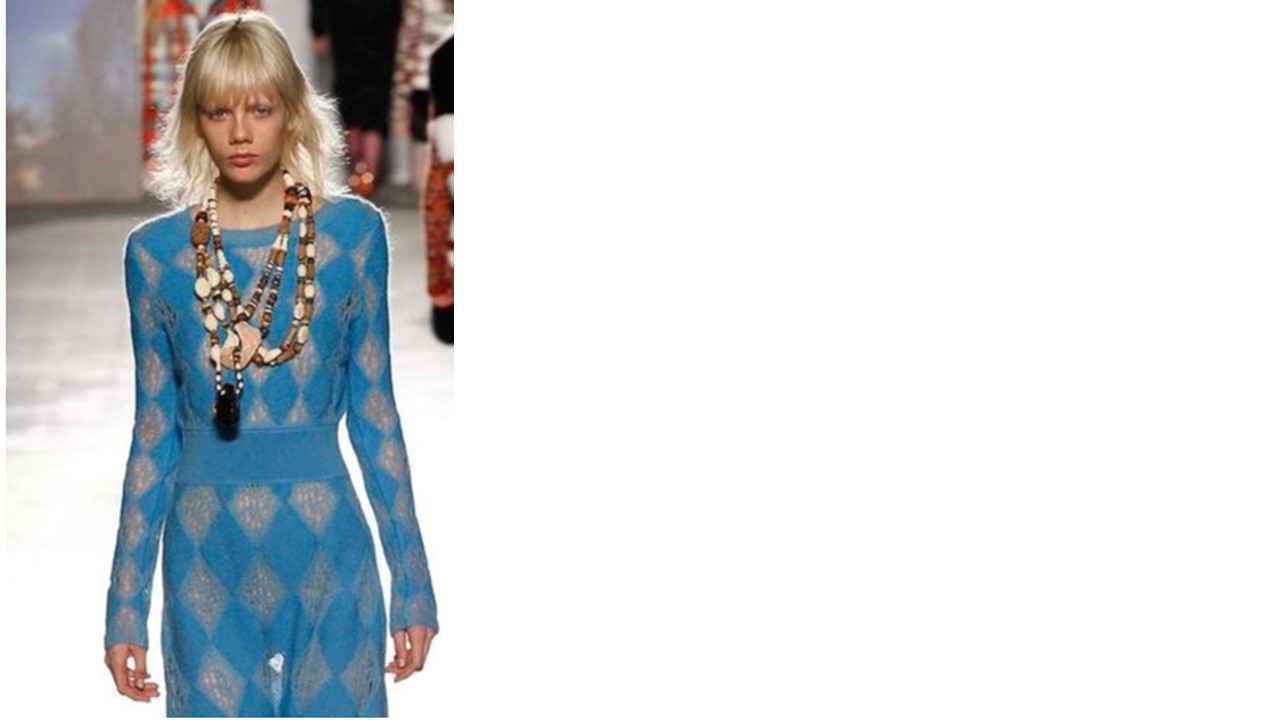 Fall 2017 Ready-to-Wear Missoni
---
More Geometry (no tangents here)
Think concise squares, triangles, rectangles, with intersecting lines, and razor edges cleverly positioned with all manner of circles. All those things you learned in middle school have come to 2017 jewelry and the best thing, no proof required! Really adore the juxtaposition of shapes seen in these necklaces, ring, and edgy earrings!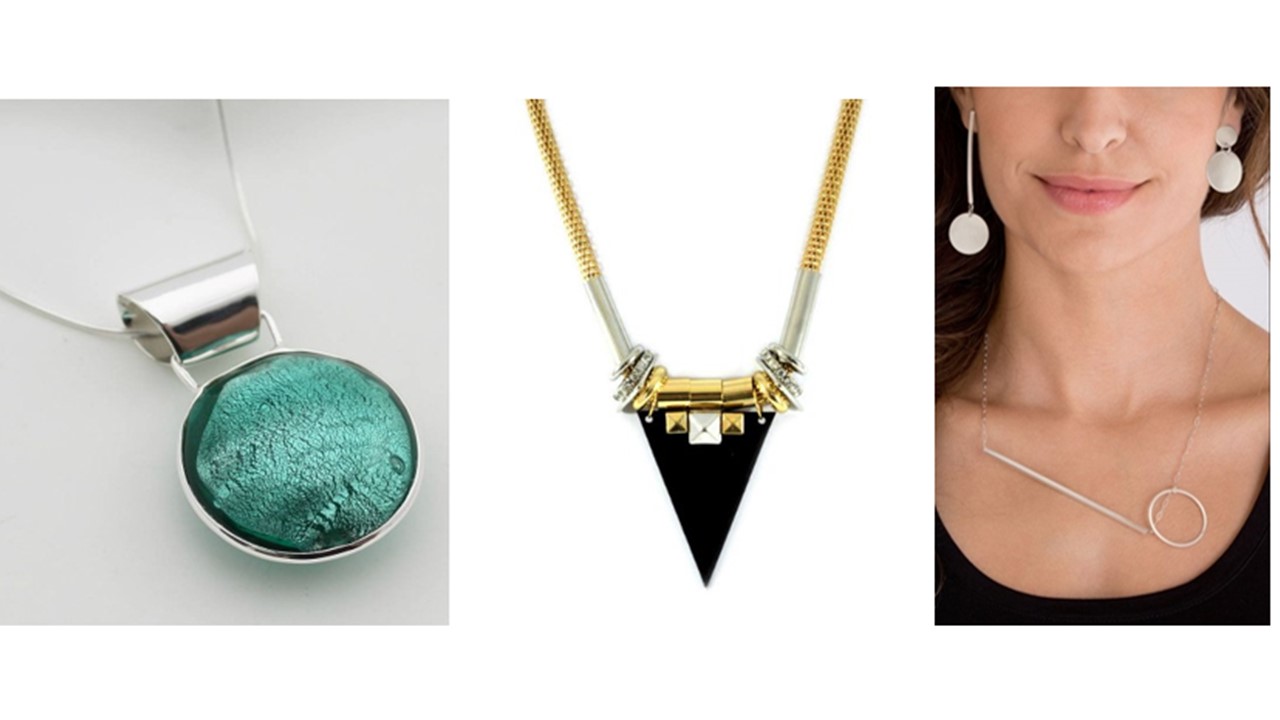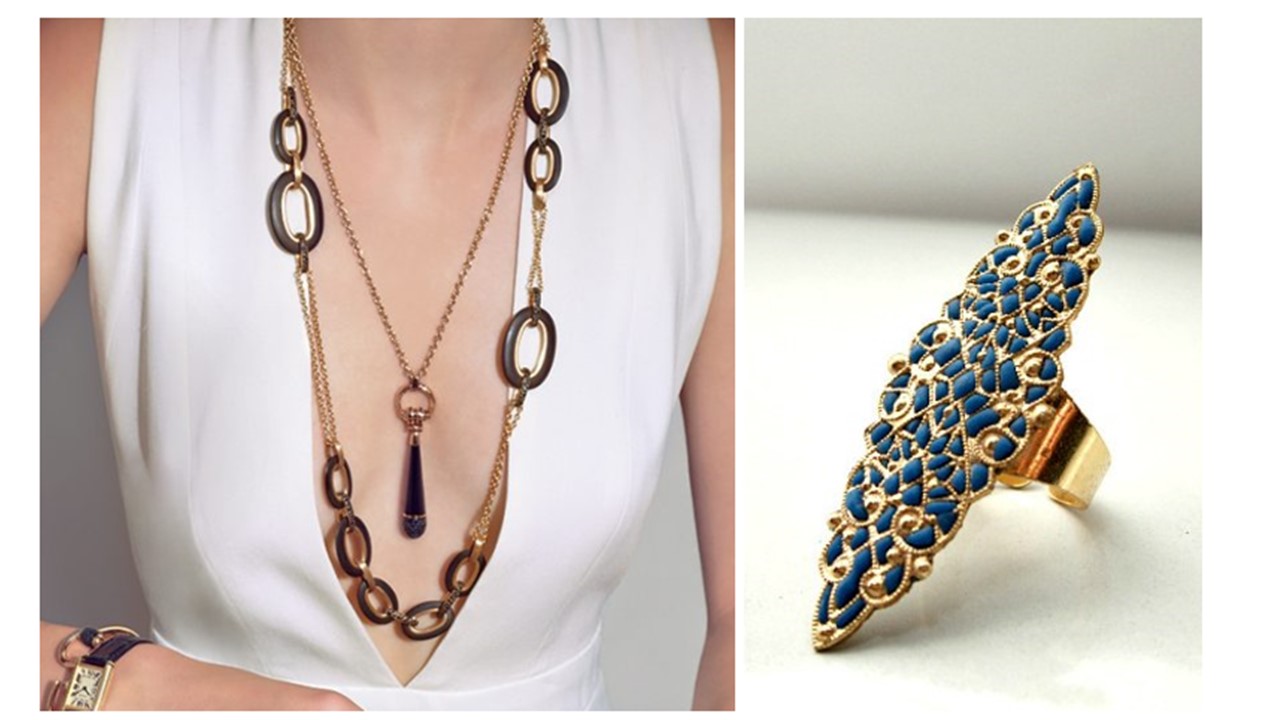 Jewelry Trends 2017: new dimension for thefloral motif and more!
Stella McCartney leads the design pack with iconic geometric dangles, and introduced asymmetry into the earring mix, by envisioning non-matching earring pairs: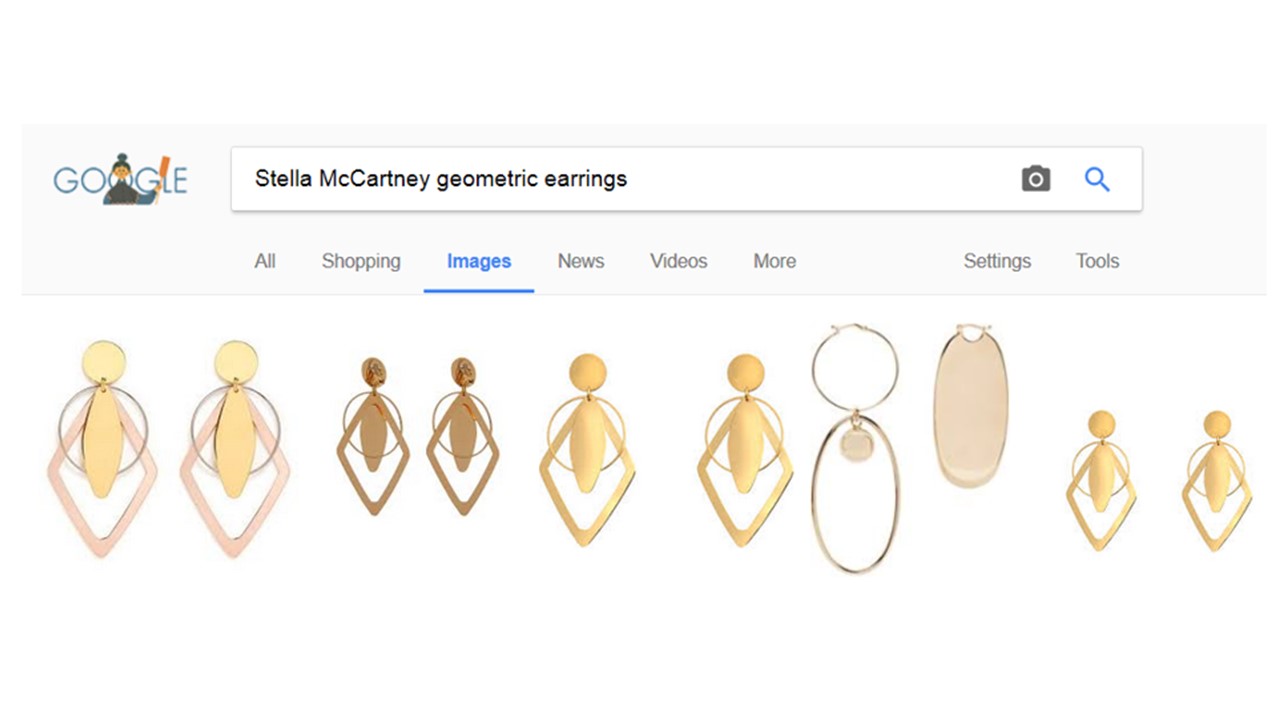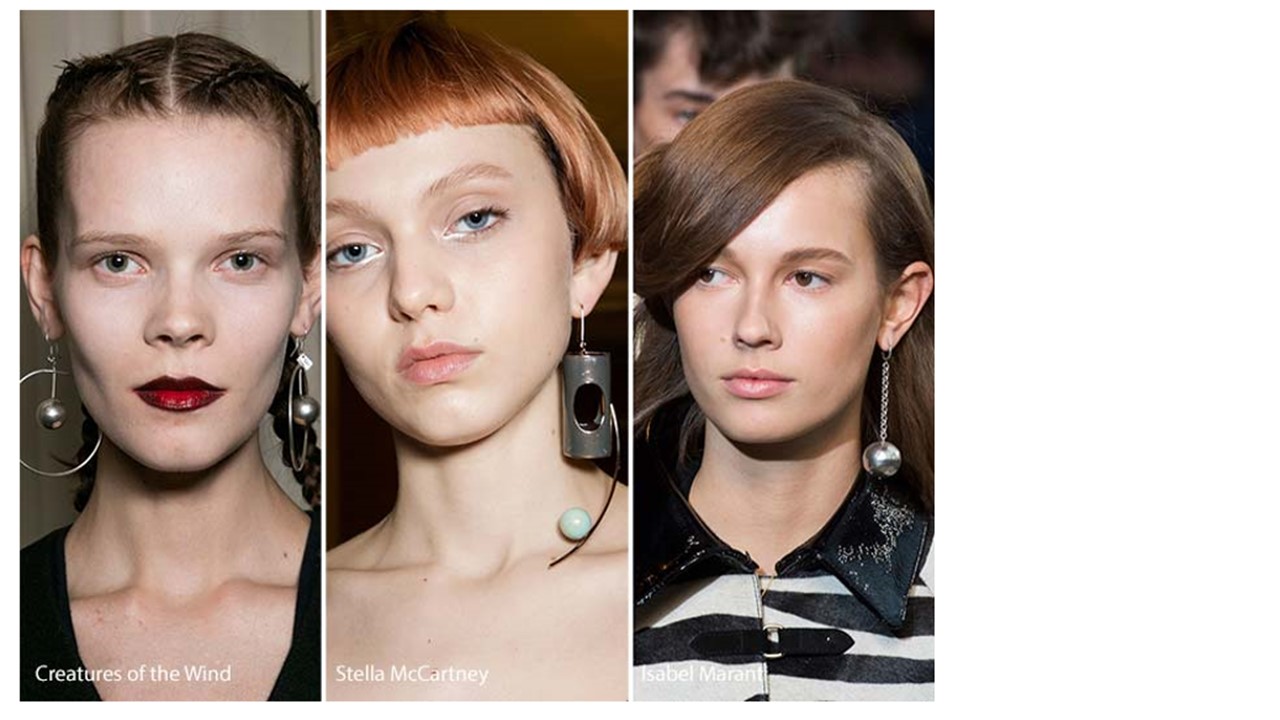 Fall/ Winter 2016-2017 Accessory Trends
Following up on this exciting trend, Naughton Braun's Spring 2017 geometric pearl edginess (not found anywhere else), features freshwater pearl dangle earrings in gold-tone or silver-tone. These freshwater stick pearls have been cultured as a unique geometric composite insuring every earring is decidedly different so you can truly own an original piece of art!
Duomo - Pearl Earrings, coming to Naughton Braun Spring 2017
---
Chandelier and Shoulder Duster Earrings
The definition of shimmer; fluid drop earrings inset with tiny gems, pearls, or shimmering metallics that flutter as you move and frame your face in captivating color. And more importantly, designers appreciate that weight is a factor, so all the stops have been pulled out to make these new drop earrings light as a feather, and many have feathers! As an added bene, others showcase another 2017 trend: tassels!
Finally, many chandeliers drop low to "dust" your shoulders, shoulder-dusters, which then take the place of any other adornments because all eyes will be on you!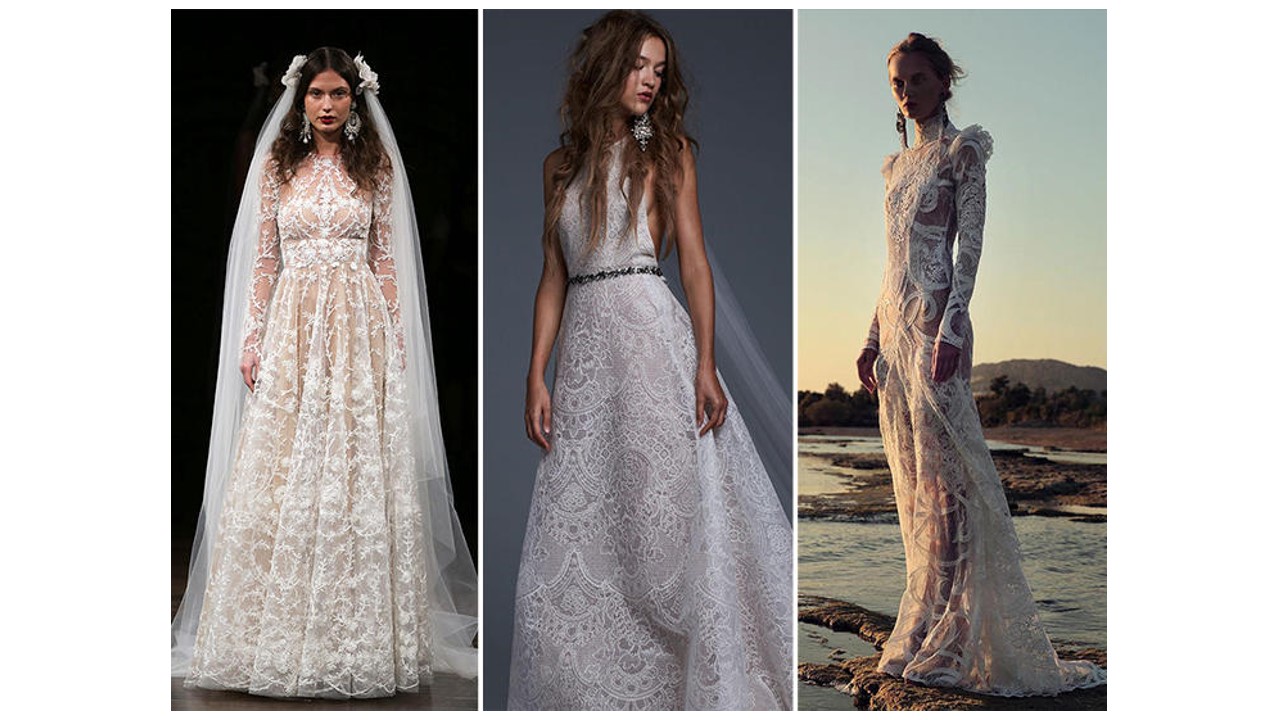 Photo by Naeem Khan, Vera Wang, Costarellos,Fresh off the catwalk: Spring/Summer 2017 Jewellery Trends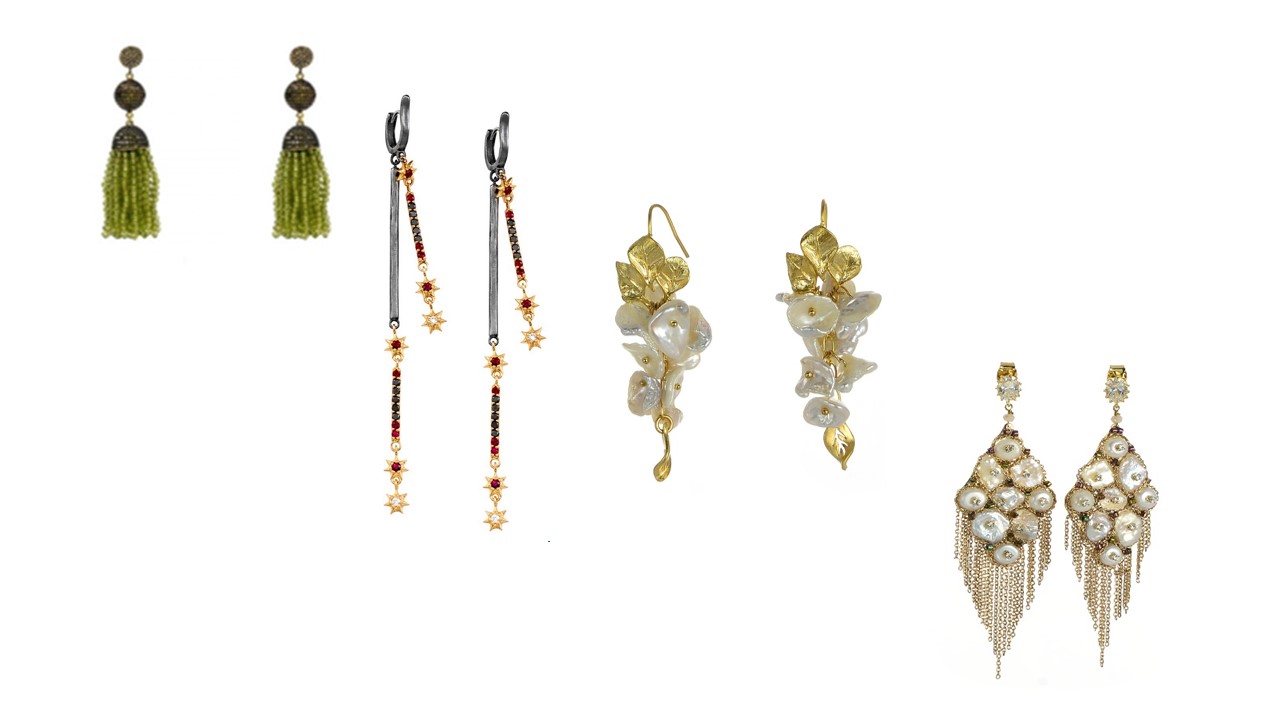 Top to Bottom: Tassel Ball Peridot Oxidized Earrings, Latelita LondonGem-Studded Blade Runner, Double by Karen Karch , Naughton Braun's Garima - Pearl Earrings, gold-tone lilies, little keshi wonders and Burney Falls - Pearl Earrings showcasing delicate sweeping tactile gold-tone chainmail designs that oozed fluidity fit the bill for this exciting 2017 trend!
---
Tantalizing Tassels, Tassels, and MORE Tassels
Now this one is one of our absolutes! Nothing like a tassel, whether in a necklace, earrings, bracelet, purse, or belt to create an atmosphere of fun, even for really sophisticated evening wear, weddings, or for that 9 to 5. Again we defer to Anush Hovhannisyan because her pointedly on-target remarks about "The widest scale tassel purveyors appeared to be Dsquared2 and Elie Saab, the former with its playful droplet tasseled earrings, while the latter with its rope leather necklaces with tassel ends undulating hilariously, not to tell about that tasseled deluge on a range of lace dresses. Don't miss other tasseled jewelry samples at Gucci, Tory Burch, Antonio Marras, Tod's and Marchesa" clearly demonstrate the large number of courtiers featuring our fav tassels in all their ensembles.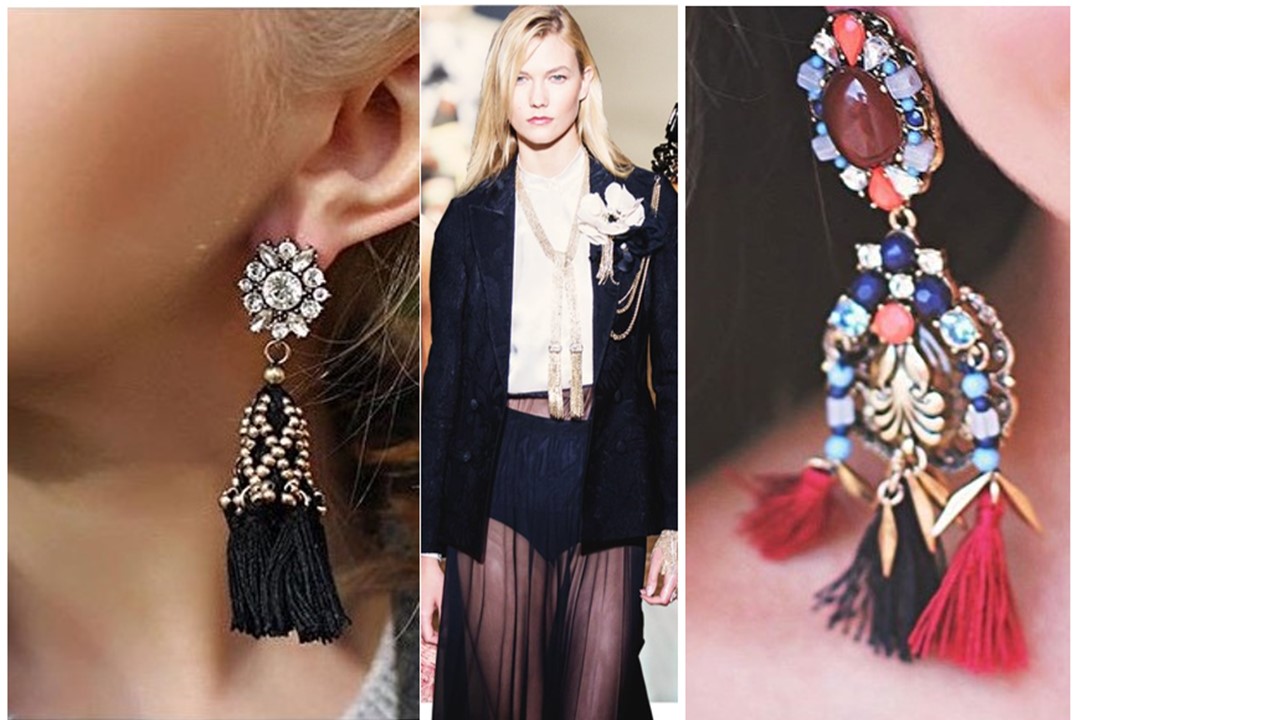 Fashion jewelry trends 2016-2017 (earrings) and Fresh off the catwalk: Spring/Summer 2017 Jewellery Trends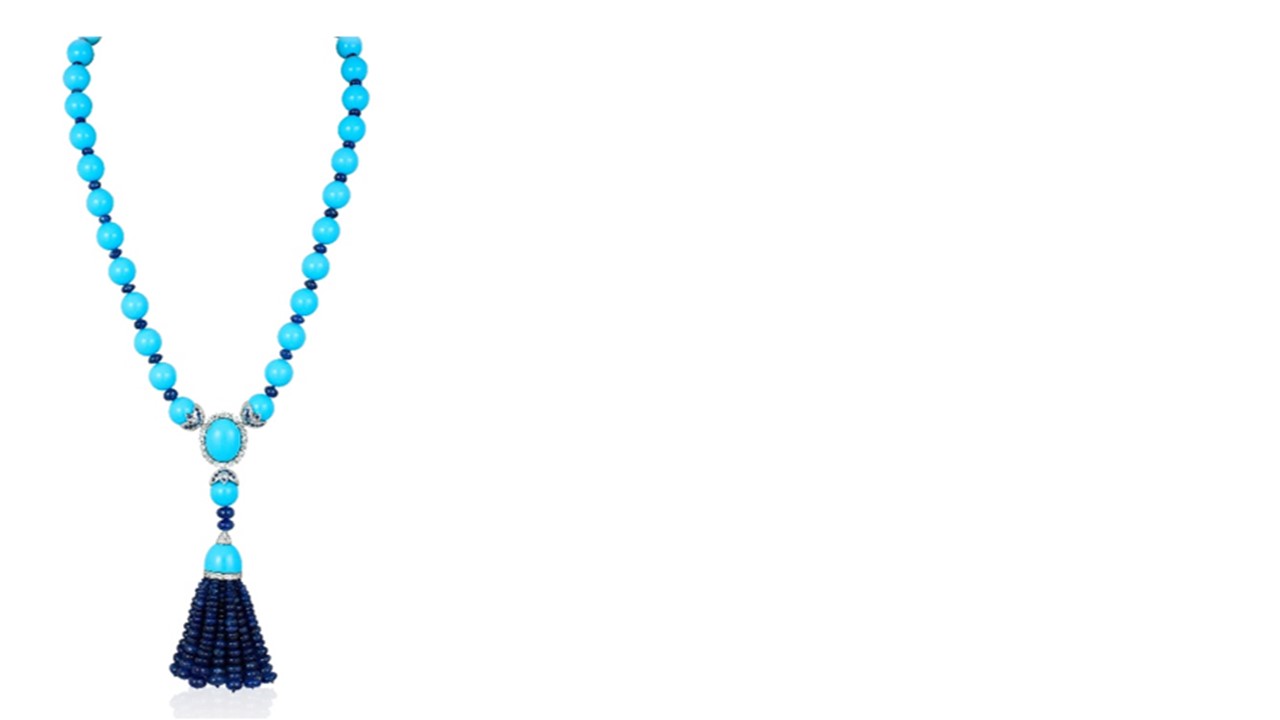 Tassel necklace in 18k white gold with turquoise, sapphires, and diamonds by Andreoli, price on request
from Hello, Sautoir: Necklaces That Go the Length inStyle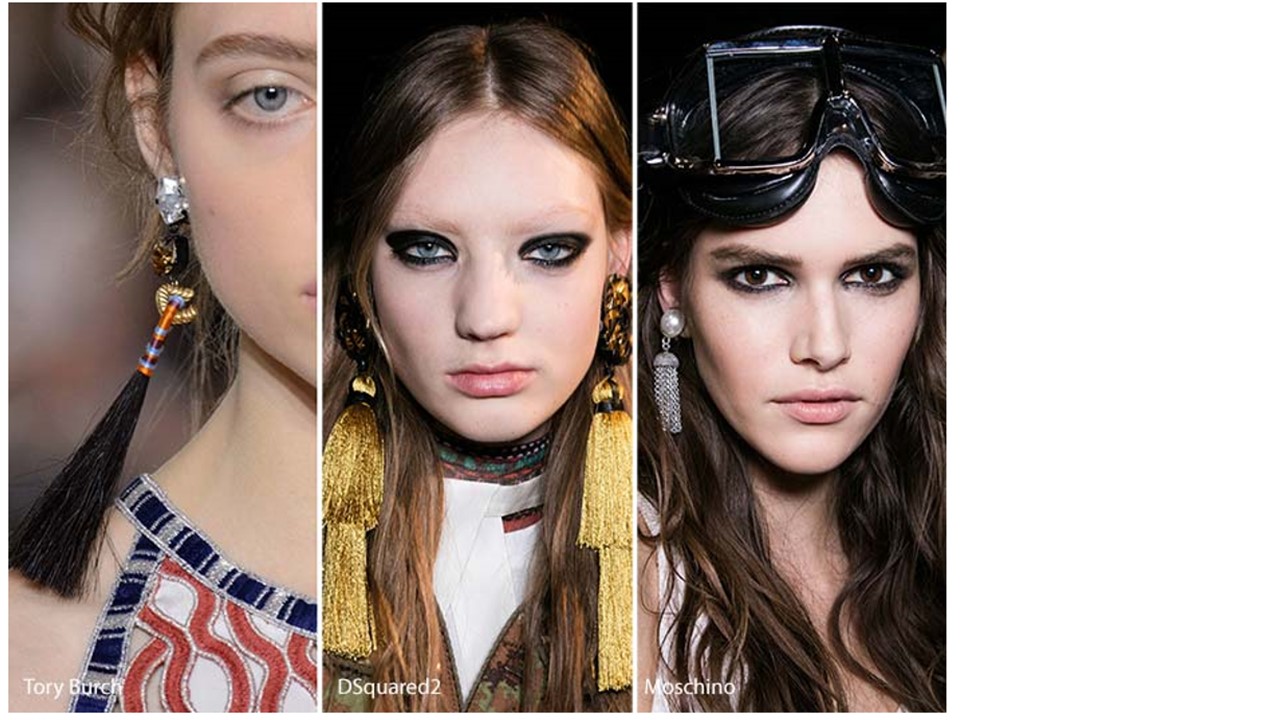 Left to right: Photo: No21, J.W. Anderson and Versus Versace Spring/Summer 2017, from JEWELRY RUNWAY TRENDS -14 jewelry trends from Fashion Week , Panther Necklace from 23 Most Breathtaking Jewelry Trends in 2017

And since TASSELS are one of our favorite design elements, we feature oddles and booddles of pearl tassel goodness at Naughton Braun: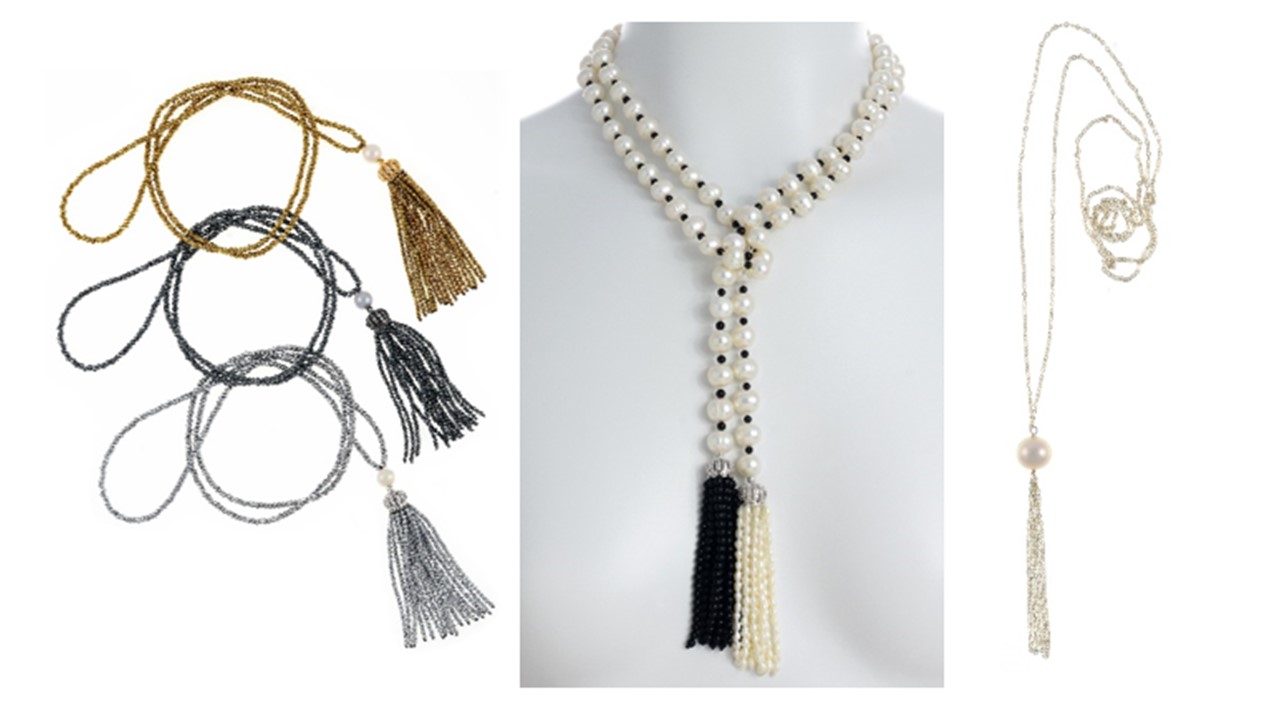 Cotton Club - Hematite and Pearl Necklace Salome - Pearl Necklace Kensington - Pearl Necklace
---
Pearl Plethora: The Absolute Best!
So for many, many years pearls occupied two main domains; a Grandma staple for those infrequent social events, or that hated high school graduation picture where that hideous black shawl contraption was draped across your chest in some sort of homage to sleekness, offset by that white single graduated pearl strand where you were not even sure those pearls were real! Baby, you have come a LONG way! More and more coutourists and designers, including us, have ditched that model as we create and pair pearls with everything from those ubiquitous ripped jeans to the most elegant evening wear on the planet. Add to the fact that pearls, by their inherent nature (nacre) infuse a soft sheen to all skin types, flattering everyone from the young to the old. Barbara Bush, like Queen Elizabeth is almost always seen in pearls, and no matter what your political slant or take on royalty, you have to admit that those ladies still got the glow! And couple this with the fact that pearls never go out of style, means that these new designs are destined to become the classics of your Daughters and Grand-daughters era. So since we love to save the best for last, enjoy this pearl exposé and consider adding some sleek pearl designs to your outfits for an instantly updated look. My favorite, my black Tahitian on a simple silver strand with my yoga pants, definitely adds to the zen!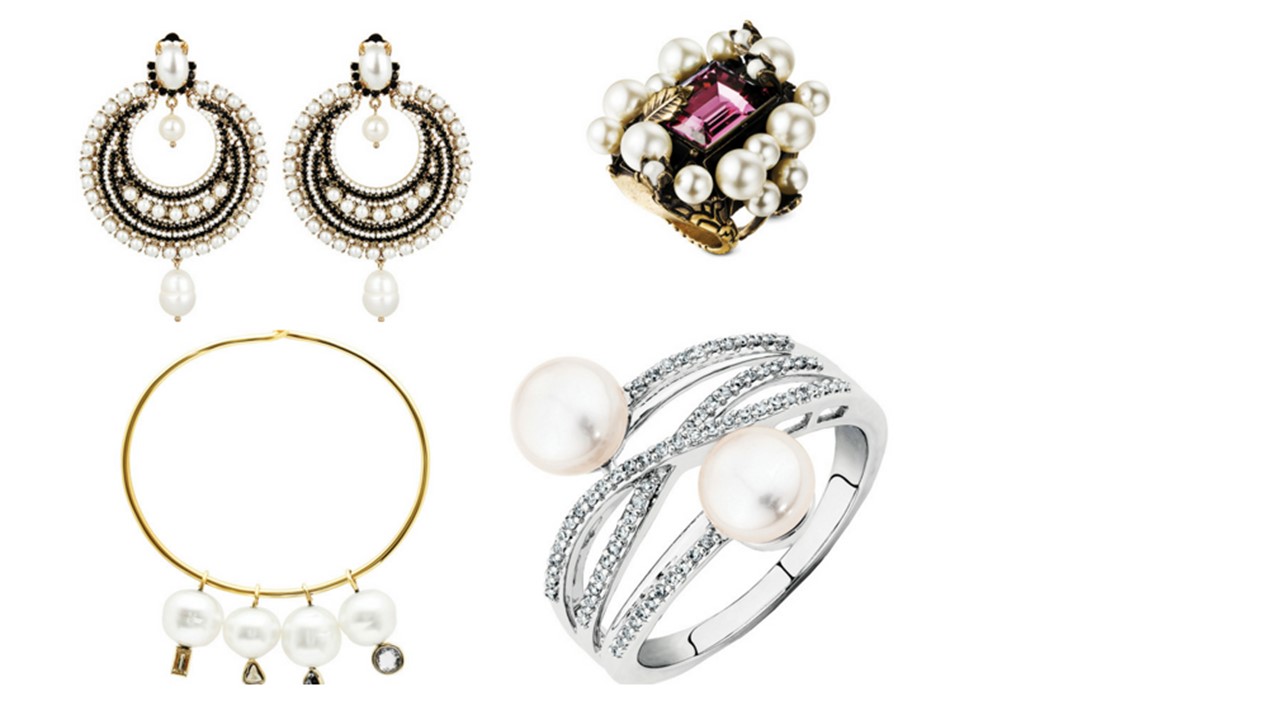 Fashion jewelry trends 2016-2017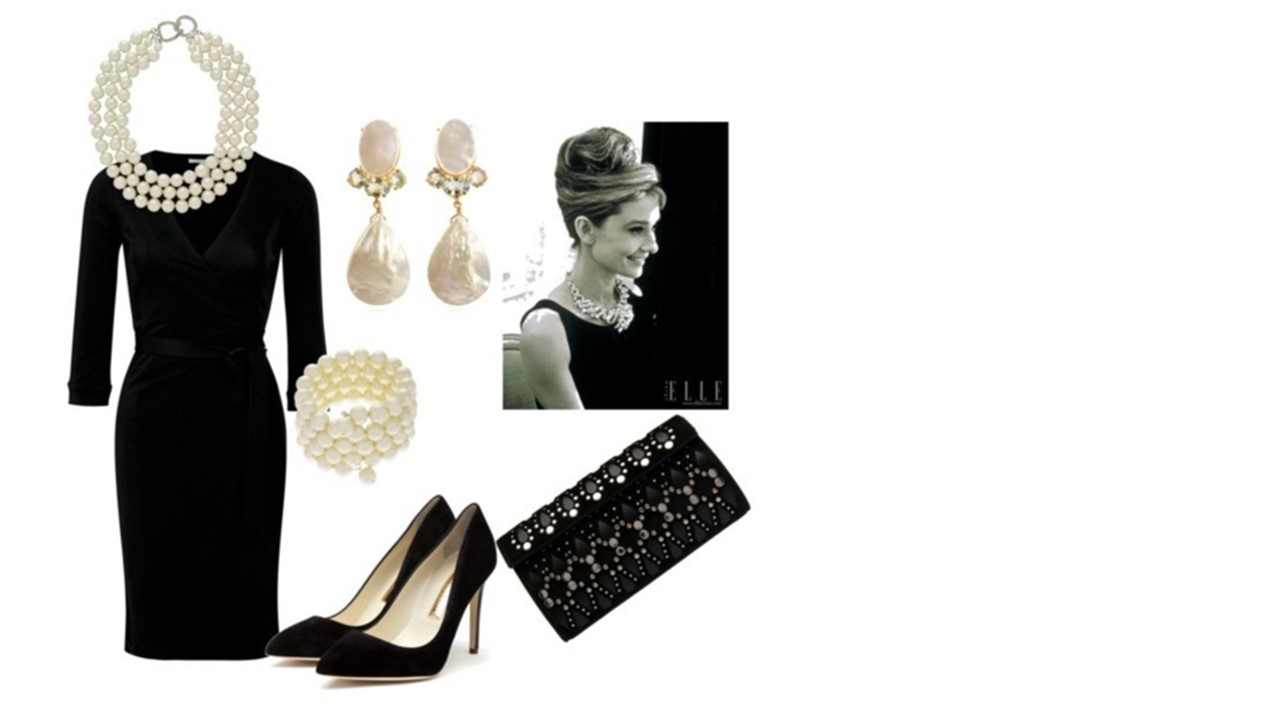 Classic jewelry-never ending fashion trend

If you just love these pearls, especially that classic triple strand, read a little further to see what a treasure awaits you from Naughton Braun in Beauchamp Place!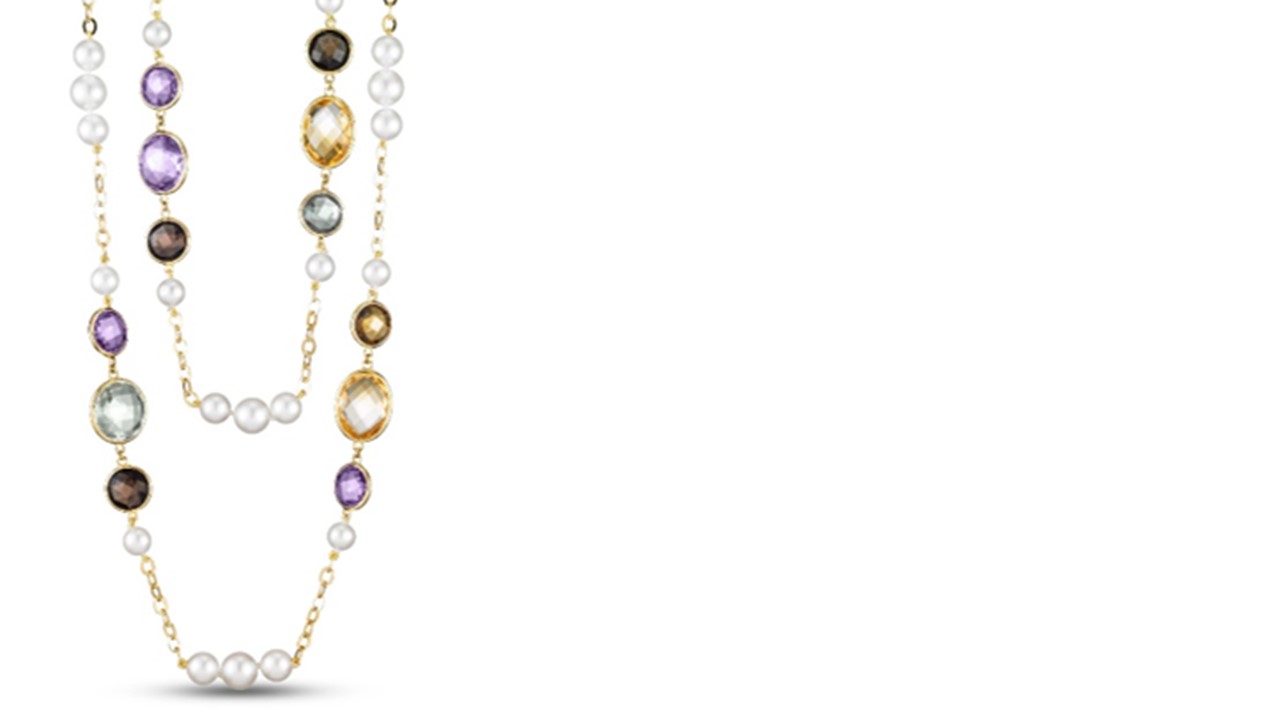 from Hello, Sautoir: Necklaces That Go the Length in Style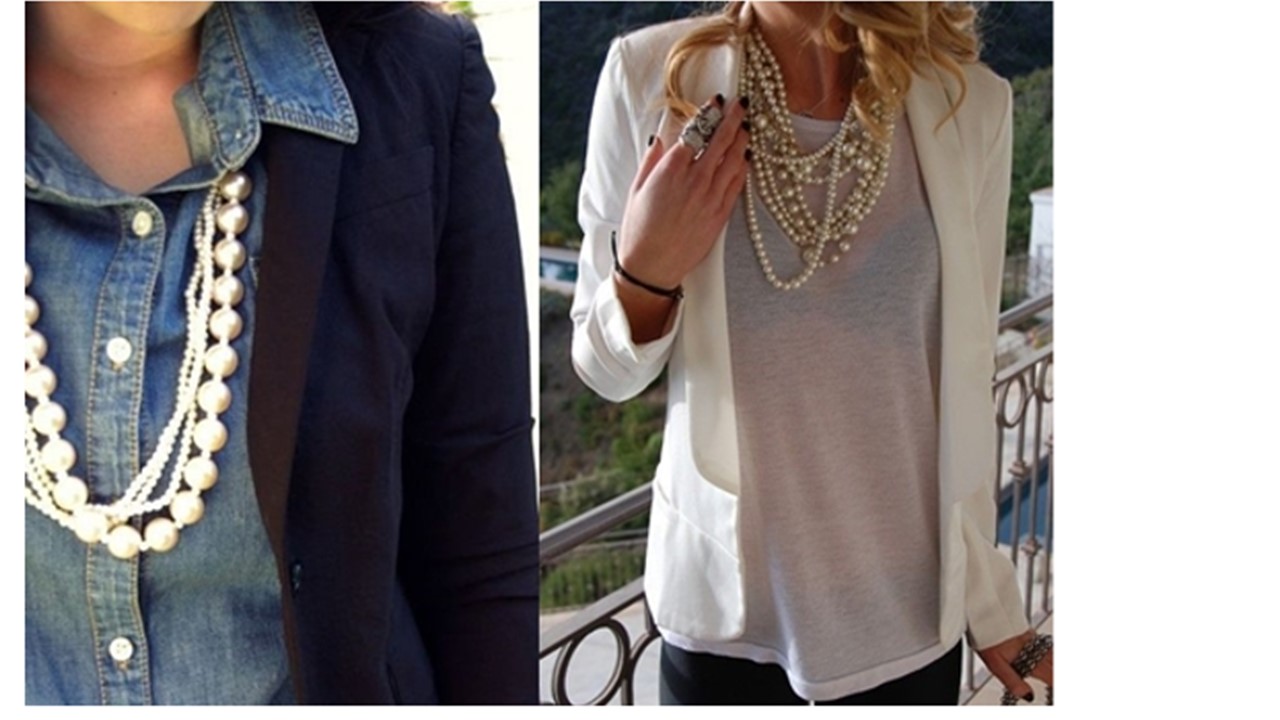 So simplicity with style and of course, genuine pearls are what make this style so everlasting. Check out six of our Naughton Braun customer favorites, (left to right, top to bottom) including: 1. the pure natural pink Bonaire - Pearl Necklace fluid drape, 2. Cherry Blossom - Pearl Necklace, an Edison pearl statement necklace with a spectacular gold bead, 3. the 6-strand white work-ready Beauchamp Place - Pearl Necklace, 4. an executive favorite, Pennsylvania Avenue - Pearl Necklace featuring an ombre slip of large shell pearls accented with a CZ encrusted broach, 5. an explosion of extra-large natural lavender keshi pearls in Lavender Fields Provence - Pearl Necklace, and finally 6. a chain reaction of the double stand Roma - Pearl Necklace necklace with all those dangling biawa beauties!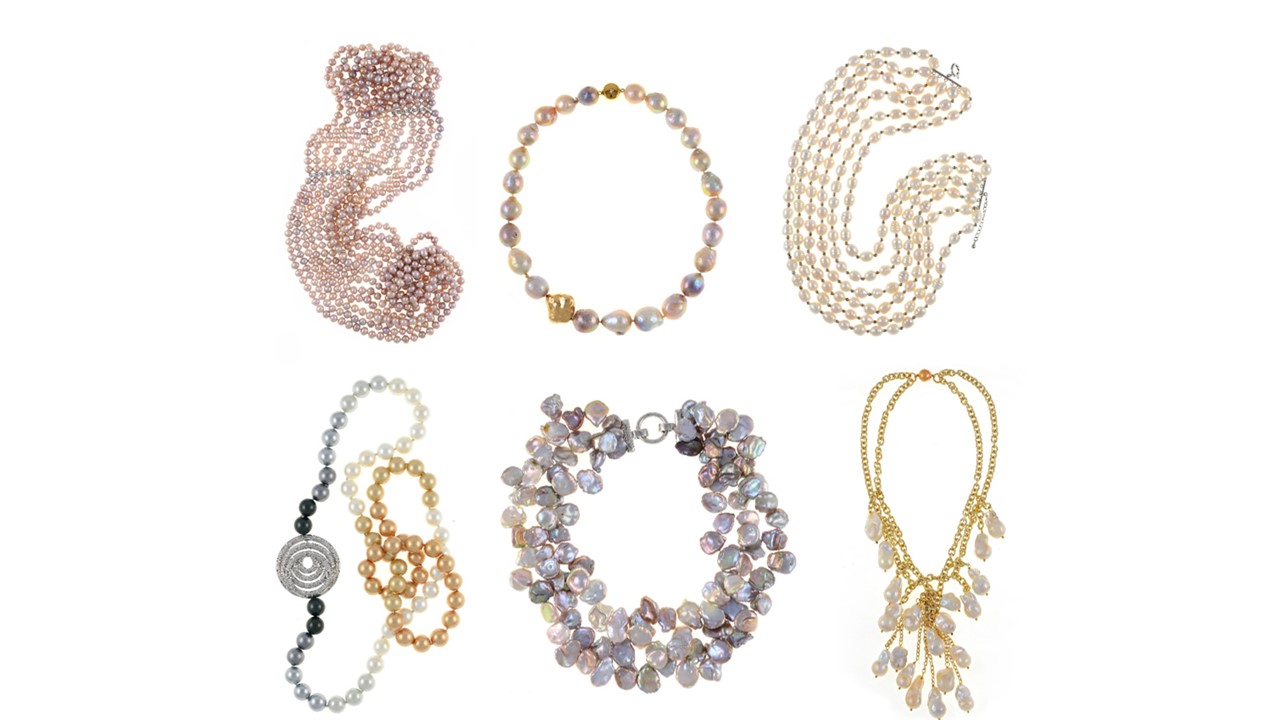 Top to Bottom, Left to Right: Bonaire - Pearl Necklace, Cherry Blossom - Pearl Necklace, Beauchamp Place - Pearl Necklace, Pennsylvania Avenue - Pearl Necklace, Lavender Fields Provence - Pearl Necklace, and Roma - Pearl Necklace
---
Final Thoughts
So this is our take on what to look for and what to experience as you ramble down your own runways, aisle ambles, store saunters, mall maneuverings, date night moseys, and school strolls. Hope you enjoyed the read and thanks to all those diligent bloggers and videographers who bring the world of jewelry trends right to my own tablet!
---
Helpful Links and References:
1.What Is a Statement Necklace? http://www.ebay.com/gds/What-Is-a-Statement-Necklace-/10000000177321198/g.html, accessed 2/25/2017
2.JEWELRY RUNWAY TRENDS -14 jewelry trends from Fashion Week Spring/Summer 2017, Anne-Sophie Mallard, translated by Kate Matthams-Spencer the 19 December 2016 http://en.vogue.fr/jewelry/runway-trends/diaporama/pe2017-14-jewelry-trends-from-fashion-week-spring-summer-2017/37737#CGKGjWd0WcBlhrsk.99, accessed 2/25/2017
3.23 Most Breathtaking Jewelry Trends in 2017 http://www.pouted.com/23-breathtaking-jewelry-trends-2017/, accessed 2/25/2017
4.2017 Jewelry Trends: Hot Styles for the New Year , http://4cs.gia.edu/en-us/blog/2017-jewelry-trends/, accessed 2/25/2017
5.Hello, Sautoir: Necklaces That Go the Length in Style, Brittany Siminitz | March 4, 2016, http://www.jckonline.com/blogs/your-market/2016/03/03/hello-sautoir-necklaces-go-length-style, accessed 2/25/2017
6.Pinterest Big Necklaces, https://www.pinterest.com/explore/big-necklaces/ , accessed 2/25/2017
7.Jewelry Trends for Fall 2017, SparklyDiva| 06/07/2016, http://www.icecarats.com/blog/jewelry-trends-for-fall-2017, accessed 2/25/2017
8.Fall/ Winter 2016-2017 Accessory Trends , Anush Hovhannisyan, 12/9/2016, http://www.fashionisers.com/trends/fall-winter-2016-2017-accessory-trends/, accessed 2/25/2017
9.Fall 2016, Ready-to-Wear Chanel, Vogue, Sarah Mower http://www.vogue.com/fashion-shows/fall-2016-ready-to-wear/chanel accessed 2/25/2017
10.Fall 2017 Ready-to-Wear Missoni, Vogue, Nicole Phelps, February 25, 2017 http://www.vogue.com/fashion-shows/fall-2017-ready-to-wear/missoni/slideshow/collection#38, accessed 2/26/2017
11.Fashion jewelry trends 2016-2017, Adriana Grigorova, November 18, 2016, https://www.happinessboutique.com/blog/fashion-jewelry-trends/, accessed 2/26/2017
12.Classic jewelry-never ending fashion trend, Nathalie Miroshnik - January 10, 2017, https://trends.jewelry/classic-jewelry/, accessed 2/26/2017