Top Pearl Blog Award!

We write blogs about things that interest jewelry lovers and fashion

lovers! Read our blogs to help you learn to love your closet again!

We are pleased to announce that we have received an award as a top pearl blogger by Feedspot! "Feedspot is a free Modern Really Simple Syndication (RSS) Reader for "power users who want to save time".

And who else besides me really needs to save time???

If you're trying to keep up with news and content on multiple web sites, you're faced with the never ending task of visiting those sites to check for new content. Feedspot allows you to put all of your reading in one location" and have it delivered on a schedule that you choose. For more information about Feedspot click this link.
Check us out and subscribe to receive our blogs automatically in your in-box! We offer tips and tricks on how-tos for styling your pearls, travel inspiration, and other fun pearl facts!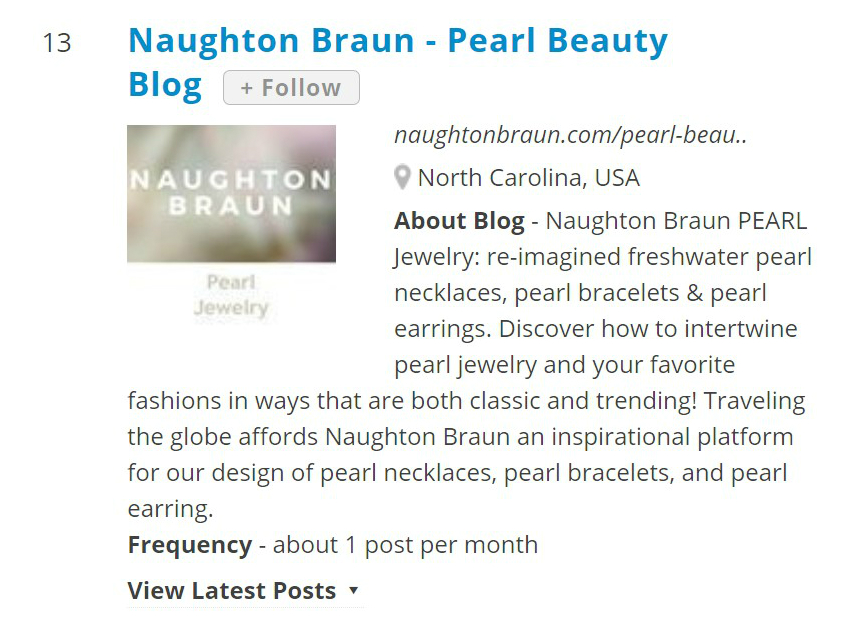 WHAT DO WE DO AND WHY?

We feature blogs all about freshwater pearls as well as fashion styling tips on how to wear YOUR pearls or OUR pearls. We show you how-to add pearls to outfits to completely change the essence of the style. All of our blogs come with a short video that summarizes the blog and is a real quick way to see and learn what the blog discusses. We'd love to have you sign up with Feedspot to automatically receive our blogs and share it with your firends. We also feature our blogs on Facebook, Twitter, Pinterest, and Google+ so look for new and interesting ideas on how to style your favorite fashions with pearls. We can show you how!
pearls, pearl jewelry, freshwater pearls, pearl necklaces, pearl bracelets, pearl earrings, fashion, pearl fashion, style pearl style, blogger, blog award, pearl blogger, video blogger, Feedspot, RSS, pearls, pearl jewelry, freshwater pearls, pearl necklaces, pearl bracelets, pearl earrings, fashion, pearl fashion, style pearl style, blogger, blog award, pearl blogger, video blogger, Feedspot, RSS