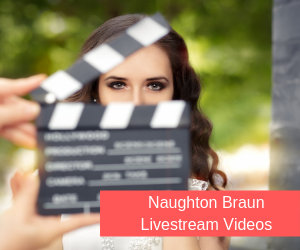 Hey Friends,

A completely different type of blog post!
We are pleased to let you know that we are now the ONLY online pearl jewelry store that offers onsite Website live-streaming video shows @ Naughton Braun.
Big shout-out to Shopcast by Bunting for creating this new and exciting technology that allows this to happen for us!
We know how scary it can be when you order off of Facebook, Instagram, Pinterest or any other Website but Amazon because way tooooooooo often when you receive whatever it was that you ordered, it is not like the picture, the quality is terrible, there is no way to return it to where ever it came from across the ocean, and your credit card company won't return your money even after you have emailed the company.
Sound familiar?
I know it has happened to me more times than I can count.
So what we wanted @ Naughton Braun is to ACTUALLY SHOW YOU what we are offering, show you the quality and the details, give you a real idea as to the size (because who really knows what an 8 versus 14 mm pearl really looks like), as well as let you know that we are real Women running a Women-centric business AND that we stand behind our pearl jewelry because customer satisfaction is our #1 goal.
Basically we run a little "QVC" type shopping video on our Website AND our friends, customers, interested people, and your neighbor can comment, share, and purchase our jewelry during and after the show. We call the event, "Pearls for Lunch", because we hold it at a time when working Women, Mom's, Grands, Aunties, Sisters, and anyone else typically takes a lunch break. You can watch the video from your phone, tablet, or computer and it is so easy to ask us questions, invite YOUR friends to the show, and shop, plus we respond to questions from our audience as soon as they come in! So unlike the "QVC", you can ask questions that occur to you as you see the jewelry, making it an easier choice to decide if a particular piece is right for you.
In the screen shot below from a recent Pearls for Lunch video, we received a question from Hildi which we were able to answer immediately online. In addition in this screen shot of the actual live-stream video broadcast, you can see the 40% discount code offered during and immediately after the broadcast, the piece of jewelry that Bernadette was featuring (Monteverde Cloud Forest - Biawa Pearl Necklace), as well as any emojis from the audience (love)! And at every broadcast we will be offering a discount as well as extra-special surprises!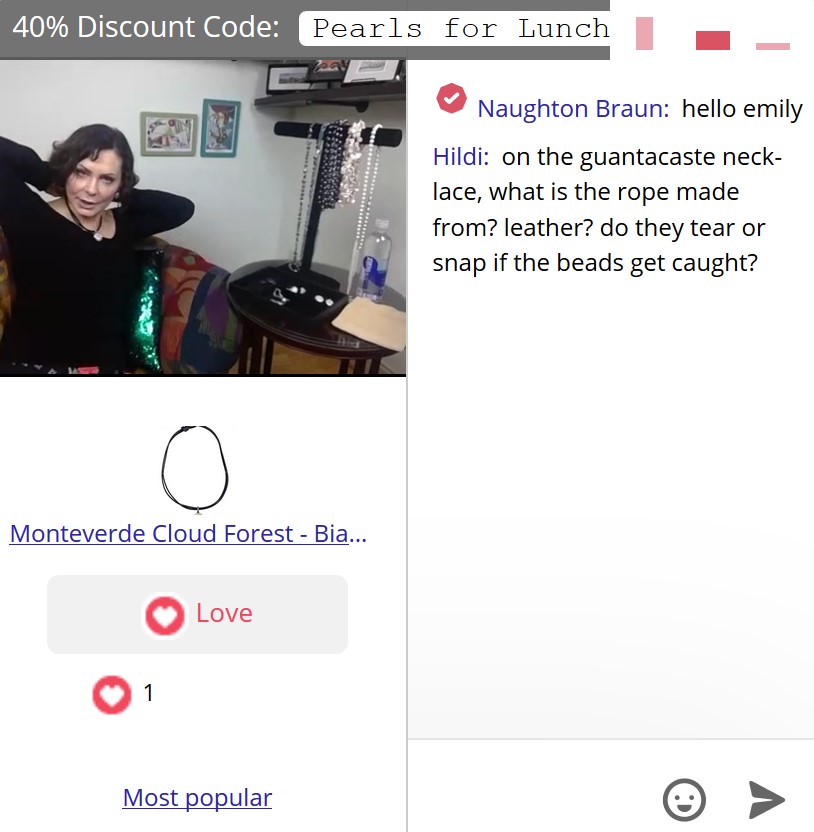 In order to make it really easy for our friends and followers to get our monthly broadcasts on your calendar, we have created a simple email sign-up entitled "Pearls for Lunch".
So click this link --> Pearls for Lunch
and give us your email address.
A day or two before the broadcasts we'll drop you a email with all the particulars, including a preview of the pearl jewelry that we'll be featuring and offering BIG discounts on! And right before the broadcast, we will personally invite you to attend via email right from the broadcast.
So Pearls for Lunch is beginning to sound like a really nice lunch break!
One more thing, you might have noticed this at the bottom of all our Naughton Braun Web pages:

and wondered what this was?
Well one more time, another Shopcast by Bunting shout-out for creating this wonderful new feature! By clicking on the "Invite friends to shop and get 20% off" button, you can do 2 very important things:
1. actually invite your bestie or besties to shop along with you @ Naughton Braun
and
2. save 20% on your order and if your bestie orders, her orders too!
So imagine this, you saw a re-imagined pearl necklace on our Website that you think would be amazing for your next date night, but you're just not sure. So you click on the "Invite friends" link and invite your best friend to "see" the necklace with you, like you were in a brick-n-mortar store together.
And the best part of this little adventure is that both of you are on your couches, in your own homes, enjoying a totally private conversation and looking at beautiful jewelry together, comparing wine notes, kid notes, school notes, life notes AND enjoying each other's company while shopping for re-imagined real pearl jewelry in your yoga pants! Fun and easy.
So why are we offering all this to you? Simple, because we want your shopping experience @ Naughton Braun to be fun, engaging, remarkable, satisfying, and simple. @ Naughton Braun, all of our real pearl jewelry is handcrafted by Women artisans, with careful attention to detail, quality, and design. We know you will be pleased with your order BUT we also want you to know that if you are not, we will respond to phone calls, emails, text messages or comments during our live-stream broadcasts to make things right for you. We are not across some ocean, we are right here in beautiful blue-sky North Carolina!
So click the link above, give us your email, and we'll look forward to chatting with you during our next Pearls for Lunch Shopcast live-stream video!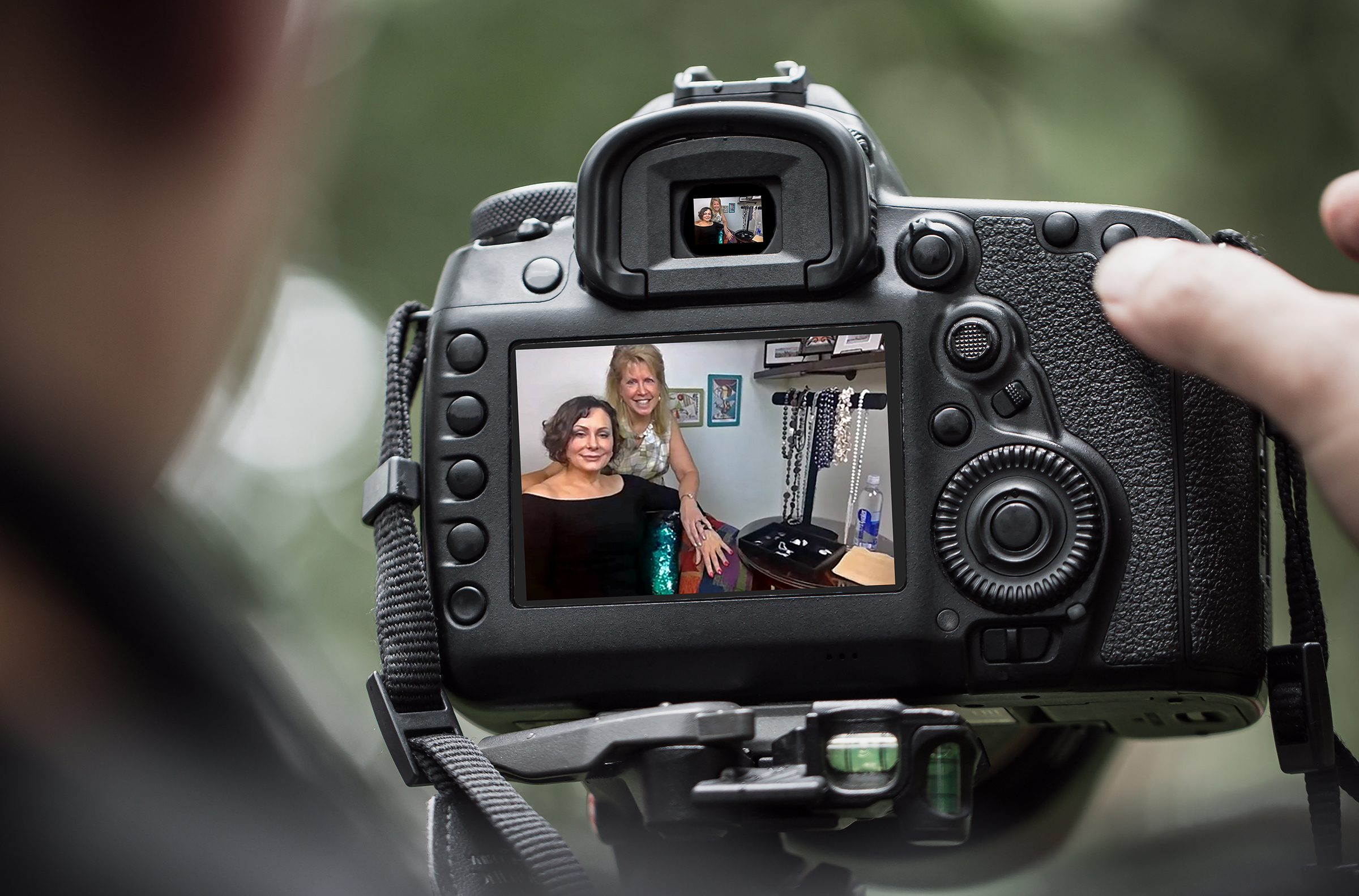 Stacie and Bernadette
In case you'd like to share that sign-up email link with your friends -->