Are we done yet??? Sounds like we're on a road trip right?
Nope.

In the spirit of helpfulness we're sharing '10 Jewelry Trends' to get your through COVID-19 2.whatever season and help spark joy!

Ok waist-up dressing has been the uniform of most of 2020 --> 2021, and my Zoom worthy necklines and necklaces and earrings and trendy water bottles are getting a bit stale. So with a changing of a season, I thought we'd explore 10 exciting jewelry trends that you might want to consider especially if Zooming is going to continue and you still need to both look your best and up your game.
What are the TEN Jewelry Trends?
Fringey
Flower Power
Face Time Zoom
Pearlfection
Eleganza
Chain Renewal
Fierce Frolics
Pearly Passions
Lovely Leathers
Singlets
Fringe is exciting because it's both so different, yet so beguiling and it's light and pairs well with everything from T-shirts to evening gowns. Many runway looks feature all types of fringe, pulsating from collarbones and powering earring designs. But if a neckline with frills and fabric or shoulder dusting earrings are too much for you, consider a necklace that drapes well and provides not only visual intrigue, but also a bit of flirty fun. Lights chains, knotted fine fabric, and split leathers are foremost in design. Find your fringe benefits in something like this: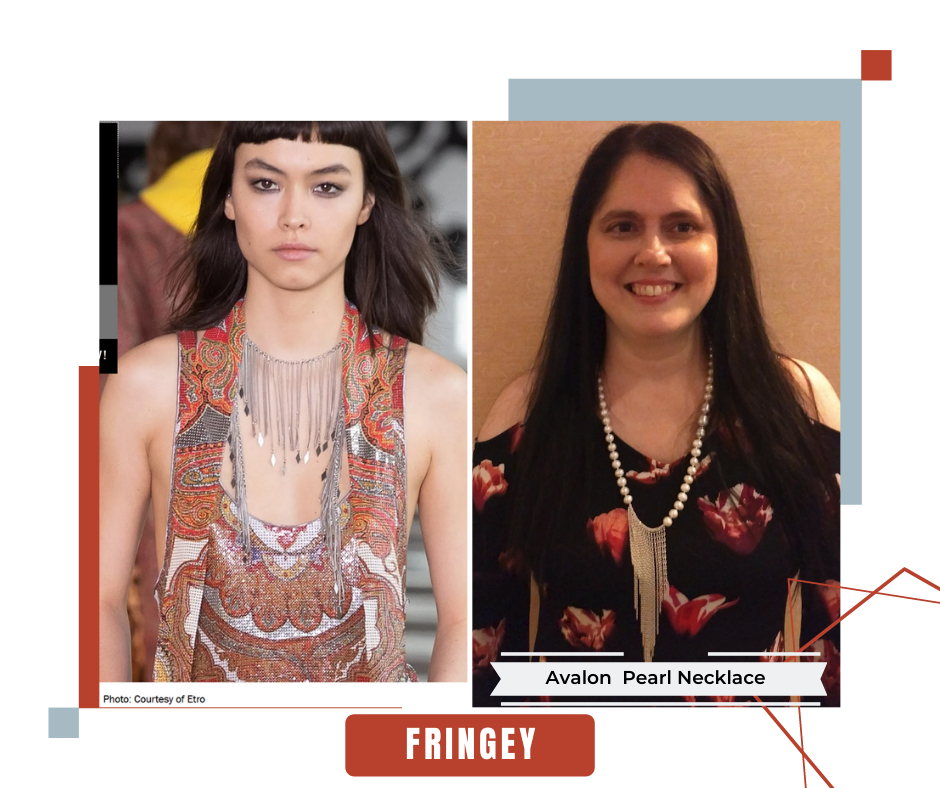 Who doesn't love flowers? Budding optimism and glass half-full perspectives are the impetus behind the flower power trends of today. And we all need some optimism and your vaccine (my little Public Health push). Today's flower takes are very different from flower power of the 1960s; more refined and delicate, yet nevertheless representative of strong, powerful Women. A fresh take on an old idea. Find some hope in these flowers: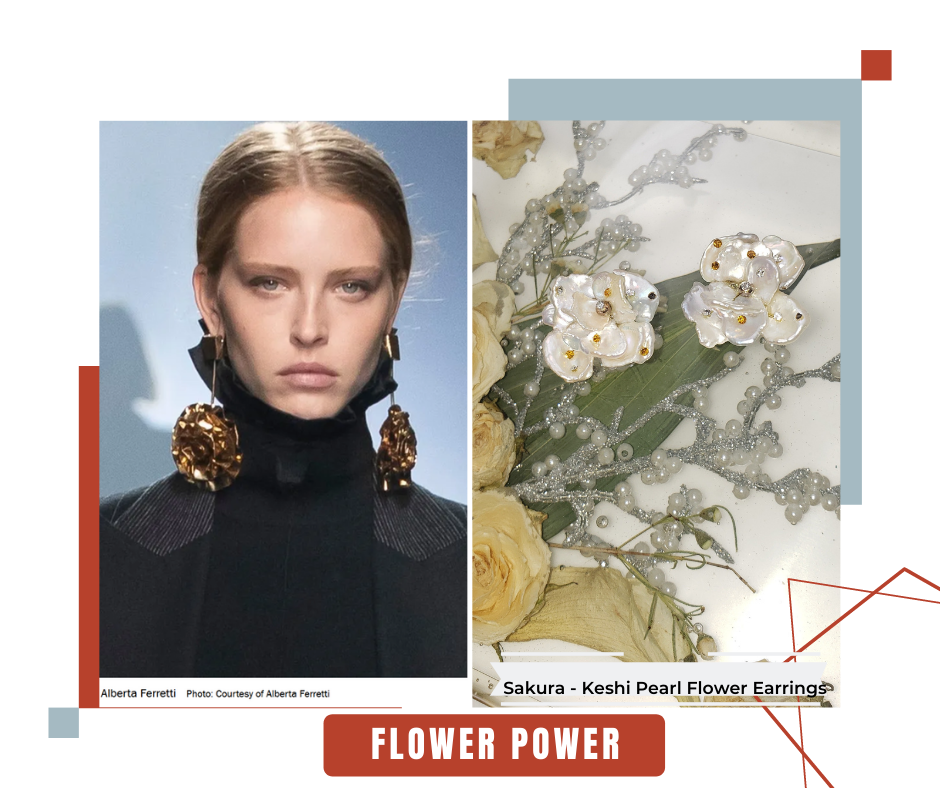 Face time, Zoom time, WhatsApp, and phone times has swept across most professional landscapes and at present is not going away. And with competition from those ugly, there I said it, ugly Zoom backgrounds that make parts of you fade in and out of existence, you need something to make YOU pop! Hence fashion designers have been hard at work bringing innovative colors, textures, and natural styles and stones to help set you apart from your Zoom colleagues. Add these natural and very interesting Zoom worthy necklaces to your collection and I prpmise that you won't fade into the background: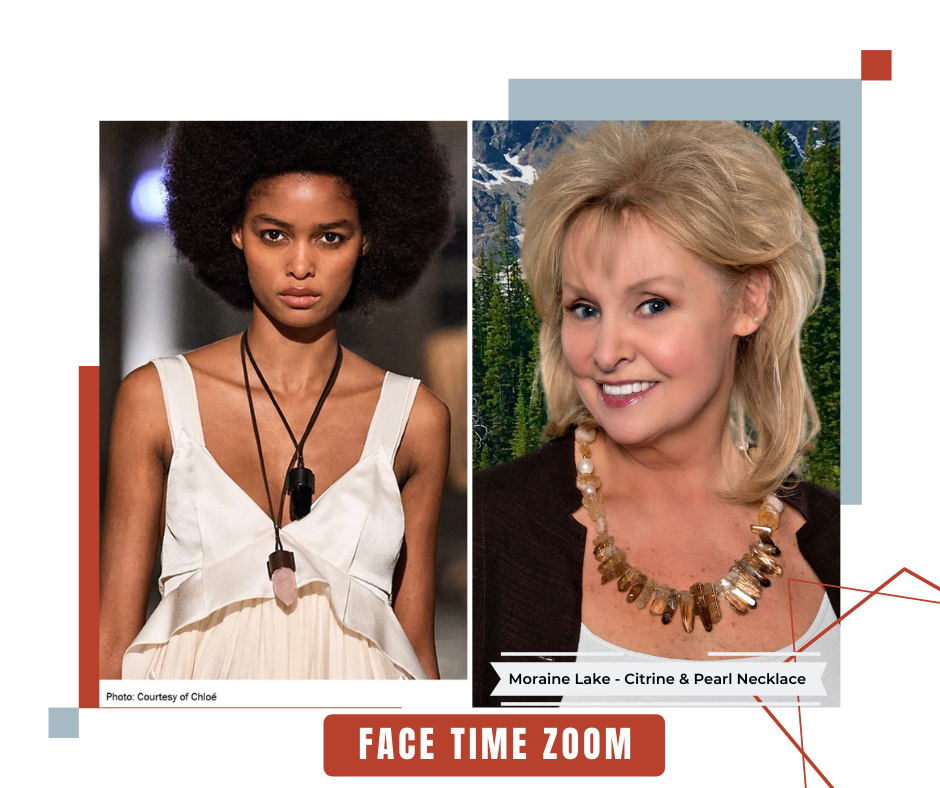 Pearls continue to dominate the jewelry landscape and are not going away! Echo-chic, because pearls are the original eco-sourced gems, have come a long way since post 20th century single strands, monotone, uniform style necklaces and studs, that almost every graduation/wedding/anniversary/dinner photo held as 'standard'. If nothing else, this pandemic has made us "standard-adverse". Naughton Braun, like other designers has found strength in marketing a myriad of colors, textures, sizes, styles, and everything re-imagined from that standard graduated single strand. It's referred to as pearlfection for a reason; each Woman can find a pearl necklace, bracelet, or earrings online that accentuate HER STYLE at price-points no longer limited to the once-in-a-lifetime purchase. See pearlfection on runways on stage, on soccer fields, in grocery stores and at work (even if you still have to Zoom):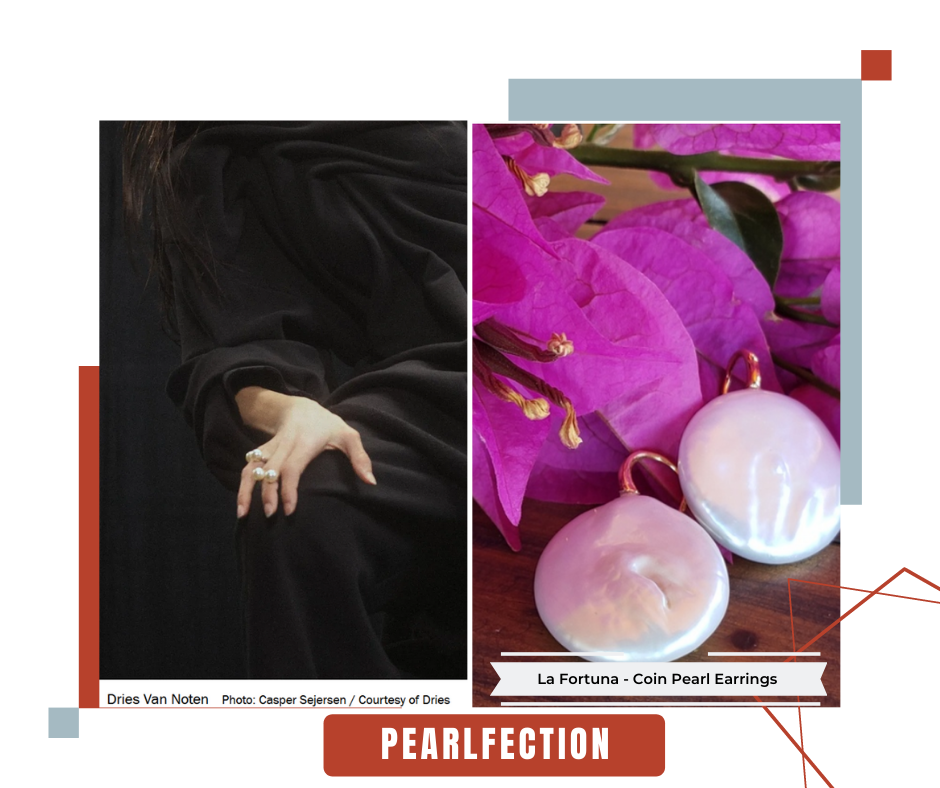 Continuing with our pearl theme, dining in and romance have become closer to home. But just because home is where the heart is, doesn't mean that 'dressing up' for date-night has become passe. Indeed, we've seen elegance in necklace style at curbside pickups and drink drive-throughs and sidewalk dining candlelite dinners. Just because you wear a mask, doesn't mean that your necklace shouldn't say, "yes I'm in a matching mask and necklace", and what do you think of that?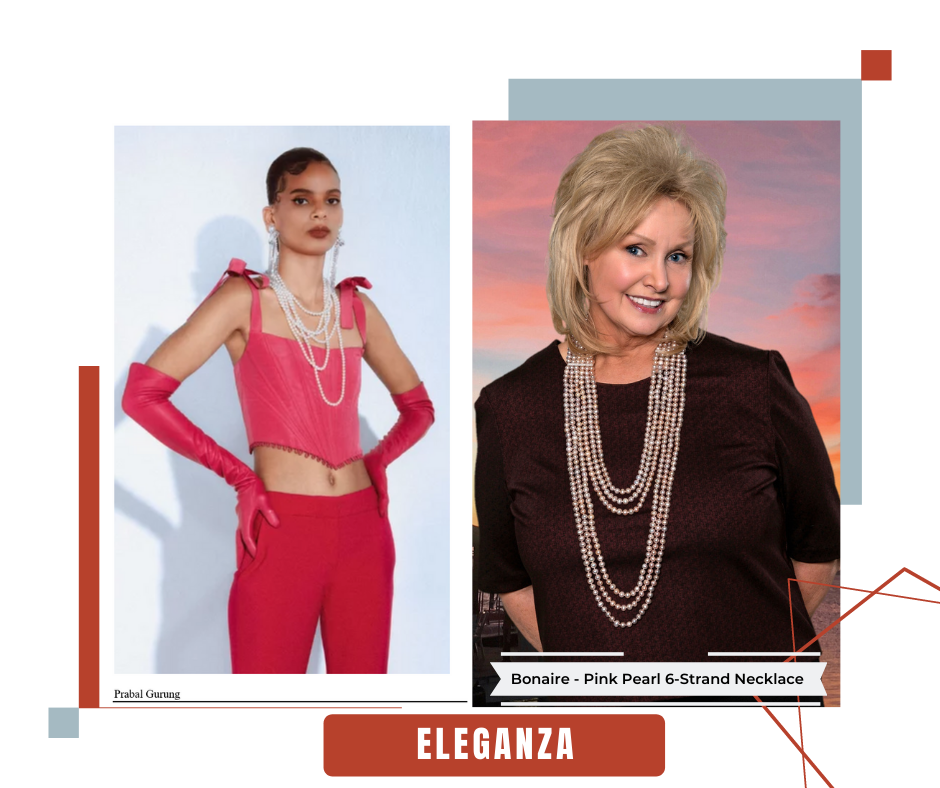 Chains conjure up an image that is restrictive, and while previous seasons featured heavy, chunky full links which I think helped perpetuate that image, today's chains have migrated to a more minimalistic and dainty style as well as some mix-n-match juxtapositions which lend well to 21st century dispositions. Chain now confers a delicate strength rather than a brutish force, a subtle nod, rather than 'hey look at me' style, and adds the capacity to fluidly mix well and layer with other necklaces.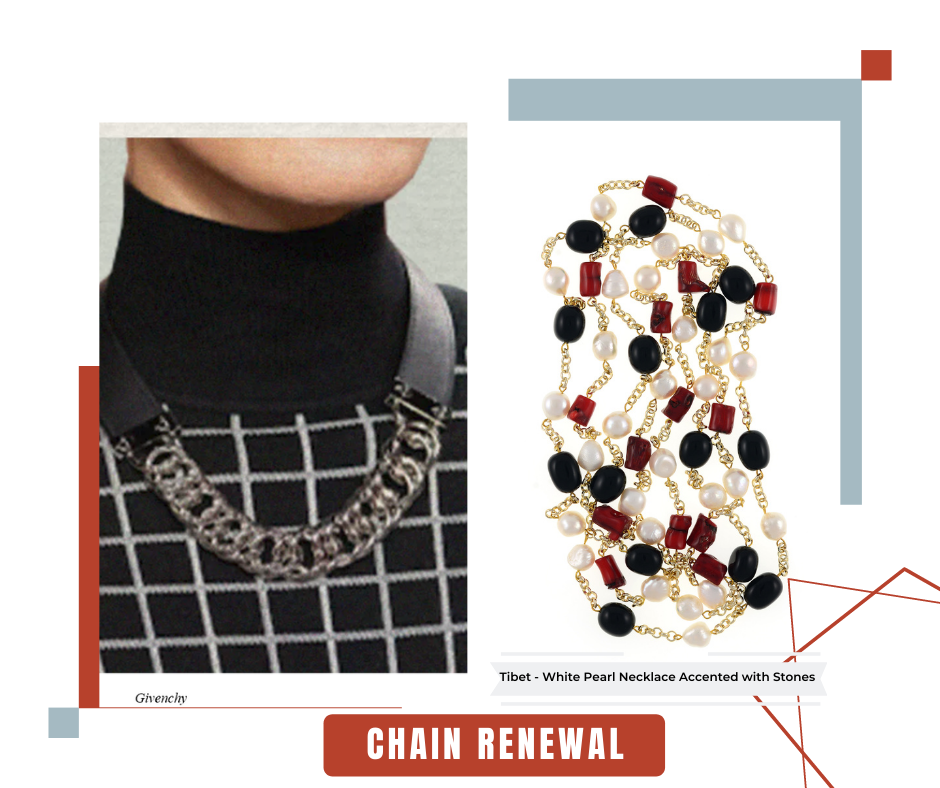 We all want to get out to play, to travel, to exercise, to hug, and to smile (sans masks). We want a bit of drama, not from dealing the same people in your home day after day, but 'delightful drama' that emanates from real life fierce and exciting adventures. And we want our jewelry to mimic that longing. So, in the spirit of 'delightful drama', find a way to frolic fiercely because YOU have missed so much: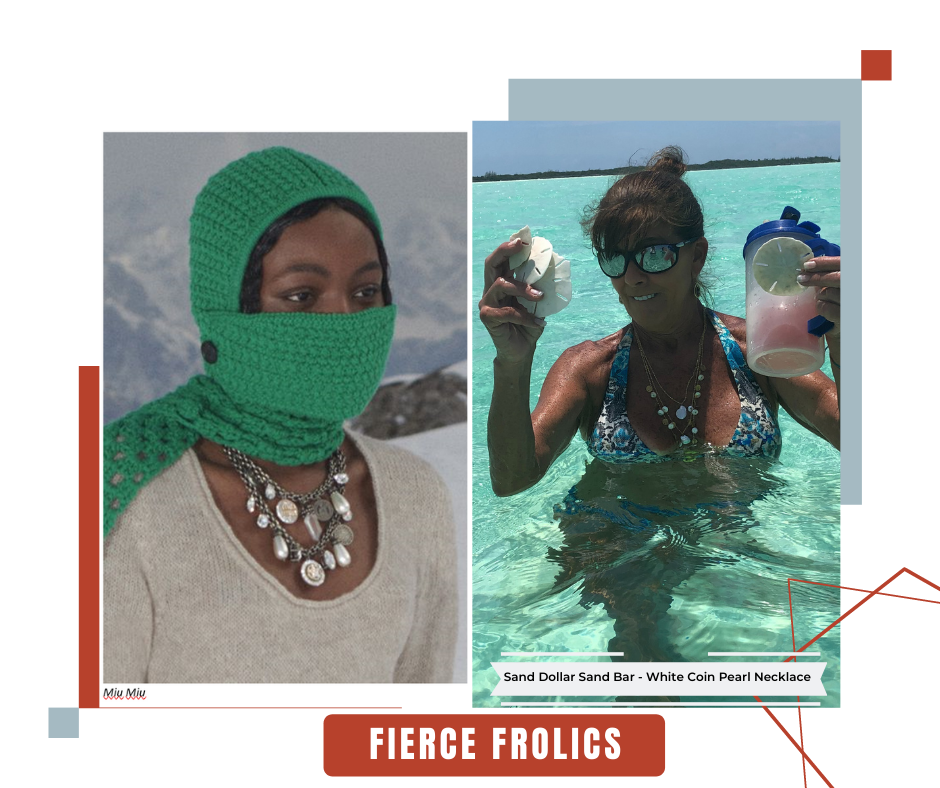 Can you tell I am missing passion? Passion for adventure, passion for interaction, passion for eating something more than what I can cook? They say no grit, no pearl and if 2020-21 has showed us all anything, it's that we all have Grit: Guts & Resilience & Initiative & Tenacity, so then logic says we should all have pearls. I'm on board with that! And speaking of GRIT, did you know Naughton Braun is a sponsor of National Wear Your Pearls Day (NWYPD)? A day, Dec 15th, that truly celebrates grit and determination and a day to pop your pearls!
And if you want to know more about NWYPD check out https://www.nationalwearyourpearlsday.com/ .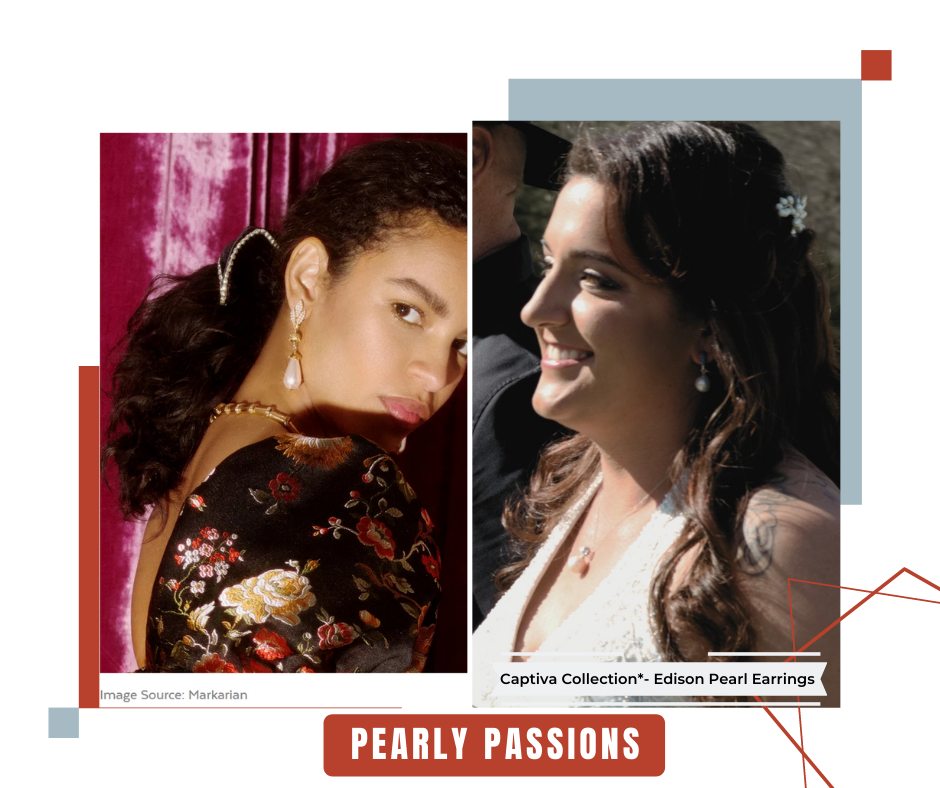 Tom Ford when thinking about a post-COVID design declared that "Fierce, powerful, and badass are words that resonated me this season," Daily Front Row. "I mean, who doesn't want to be a badass?" (Tom Ford Fall '21 Is All About Power Dressing 'Like A Badass' - Daily Front Row (fashionweekdaily.com)) And please tell me what is more badass than leather? Think leather and design and full feminine power comes to mind. Find it here: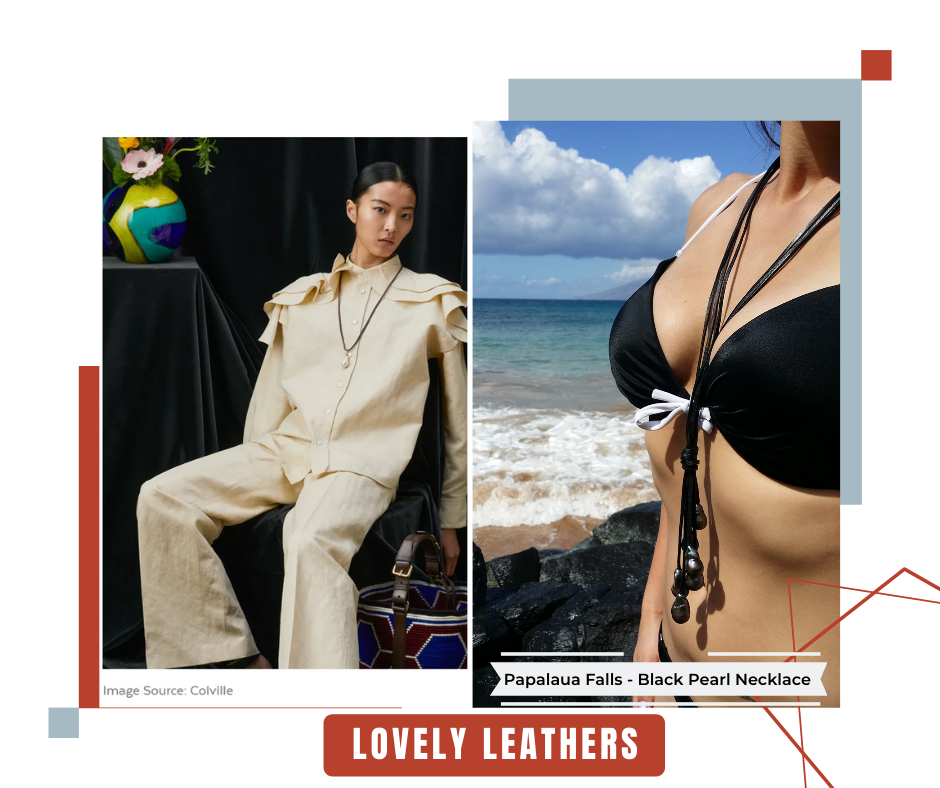 And the final trend is what we call the 'singlet'. I personally like this earring trend because it allows me to feel good about all those earrings I have lost, because now I can feel totally comfortable wearing just one, and unlike potato chips, you can get by with just one!!! Enjoy your singlet style and rock your next outing because masks don't hide earrings! As Jennifer Lopez says "Women should never go without earrings. Passing on them is an opportunity missed".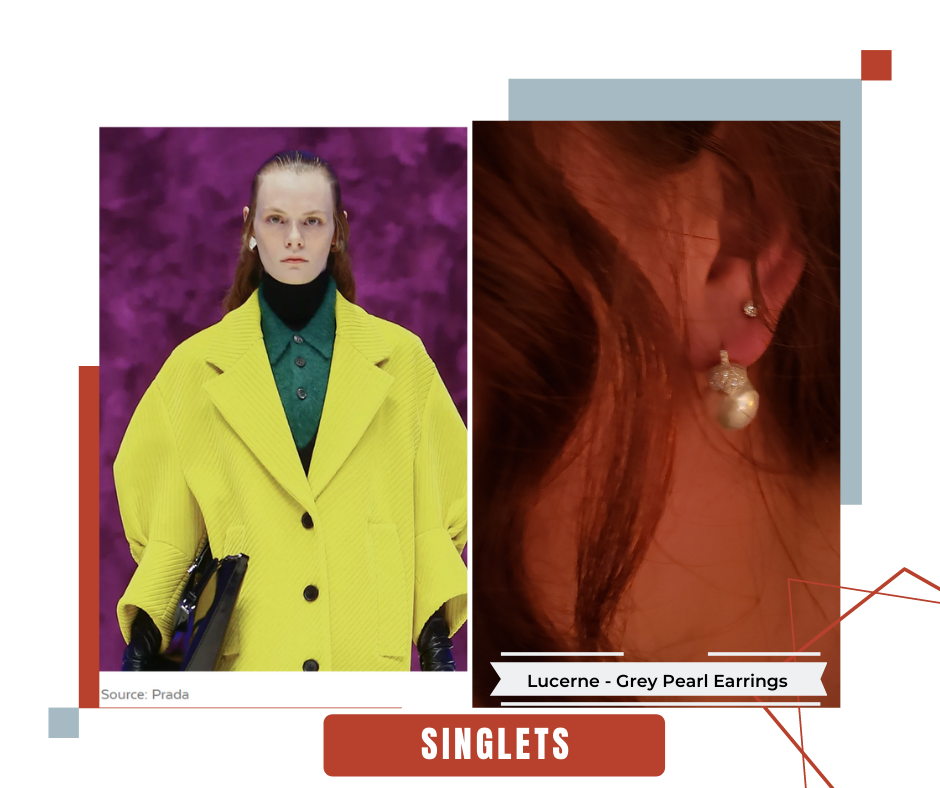 Comments? Want to know more about National Wear Your Pearls Day? Share comments about your COVID-19 stories and most importantly, stay safe Friends! And let this piece Spark Joy for you!
References:
The Fall 2021 Jewelry Trend Report
By Laird Borrelli-PerssonMarch 22, 2021
https://www.vogue.com/article/fall-2021-jewelry-trend-report

Five 2021 Jewelry Trends To Invest In, From Pendants To Pearls
By Bella Gerard and Julia Marzovilla
Jul 08, 2021 at 3:27 pm EDT
https://stylecaster.com/2021-jewelry-trends/

The Most Anticipated Earring Trends of 2021
https://www.borsheims.com/blog/trending-earrings/

10 Jewelry Trends You'll See Everywhere Next Season & Where To Shop Them Now
By Laura Lajiness
3.18.2021
https://www.thezoereport.com/fashion/jewelry-trends-fall-2021-runways

The Jewelry Trends for Fall 2021 to Invest In Now
Mar 10, 2021
https://www.marieclaire.com/fashion/g35714949/jewelry-trends-fall-2021/

7 Jewelry Trends You'll Want to Shop in Fall 2021
March 3, 2021 by Jamila Stewart
https://www.popsugar.com/fashion/jewelry-trends-fall-2021-48189084