Our Guiding Philosophy:
We design different because pearls are our passion and travel is our treasure.
What do we offer?
Demi-fine pearl jewelry! What is that?
Simple: "The demi-fine customer is looking to accessorize, whilst the fine-jewellery customer is looking to make a significant purchase" (BOF, by Victoria Berezhna December 20, 2017 05:28 https://www.businessoffashion.com/articles/intelligence/the-rise-of-demi-fine-jewellery). We create re-imagined real pearl and gemstone jewelry designed to compliment your style. These are not your graduation gift, single strand pearls!
Who Are Our Customers?
Women like you! Professional Women in need of elegant freshwater pearl necklaces, pearl bracelets, or pearl earrings that fully compliment any work ensemble, including casual dress Fridays! Women who are relaxing, at a soccer game with their kids, or out on a lunch date with family, friends, or that special "someone". Women who are enjoying their date or movie night, that very special anniversary dinner, or the whim dinner with your girlfriends after a successful shopping adventure. And one of our dearest groups, our Brides. We adore working with Brides and Brides-to-be and their wedding parties to fulfill their dreams of accessorizing with the most perfect pearl jewelry to fully realize their wedding day dreams! And sometimes our Brides want something made just for them, that no one else in the world has, and we help them create that vision and turn it into a pearl necklace, pearl bracelet, or some pearl earrings that they treasure forever as a romantic remembrance of their wonderful wedding.
Our re-imagined pearl jewelry has real "staying power", meaning that what you buy today will be enjoyed and treasured by your Daughters and Grand-daughters. And it will look as lovely and refined then as it does now, due to the excellent quality control and expertise in choosing the pearls and semi-precious gemstones that are crafted into each piece. That is why at Naughton Braun Pearl Jewelry we say "You never actually own Naughton Braun re-imagined pearls. You simply get to enjoy them before your Daughter or Grand-daughter does!".
And finally, we are there with both Gift Certificates and assistance for those who want to purchase something for their loved one, but don't know what?? Our stockists are trained to understand fashion nuances to be able to provide the best advice if you know you want earrings; but which ones, or she likes pink, but which necklace? We can help with that! Email us at HiPretty@naughtonbraun.com or call us at (980) 257-9220 for prompt service sure to make you smile with joy at your choices.
OUR DEMI-FINE COLLECTIONS - NAUGHTON BRAUN Pearl Jewelry, NAUGHTON BRAUN BESPOKE Pearl Jewelry, and our Pura Vida, Pretty Pretty Bahama, & St Augustine Collections



What are our collections?

At Naughton Braun, we offer demi-fine collections of genuine freshwater pearl jewelry comprised of pearl necklaces, pearl bracelets, and pearl earrings. All of our beautiful freshwater pearl jewelry is named after places we have visited. Inspiration in the form of sights, sounds, or feelings led us to create a piece of jewelry that reflects some aspect of our visit, and many times the actual necklace, bracelet, or pair of earrings will bear some resemblance to a landmark you might recognize. Read our Pearl Beauty Blog " Veni Vidi Amavi – And We are Inspired! Do you ever wonder how travel and pearls ended up together?" to see actual examples of the inspiration and finished pieces! By naming our pearl jewelry after places, we share a story which can then become YOUR story!

The Naughton Braun Pearl Jewelry demi-fine collection is completely designed by us and features a range of colored and white pearls, some also set with semi-precious gemstones, in many types and sizes. To learn more about our freshwater pearls, we invite you to view a video tagged to our blog "Do you get confused by all the different types of pearls you see on the internet?". We offer a wide range of pearl sizes, from small (baby aspirin size) to jumbo (shooter marble size) not commonly found in retail or other online stores. In addition, we understand that people are confused about the sizing of pearls so we created a video and a blog to help with that. So many of our customers had question about size because you just cannot tell how large a pearl is by looking at a picture! Read "An Easy Way to Understand Pearl Sizing or A Pearl Picture is Worth a Thousand Words" or watch the video to get a crystal clear understanding of how really large our pearls are!
The Naughton Braun Bespoke Pearl Jewelry demi-finecollection is very similar in terms of the types of jewelry offered, the only difference is that these pieces were originally designed as "Bespoke" jewelry, i.e. specifically made as a commissioned piece. The Women who commissioned these pieces, either for a wedding, anniversary, birth, engagement, retirement from work, or other special event in their lives gave us permission to modify their special piece so that we could offer it as part of our collection. So all of the Bespoke freshwater pearl jewelry, originally designed and handcrafted to exact specifications, has been modified so as not to interfere with the original design yet still be offered to everyone!
Our Demi-fine Pearl Jewelry

Check out our gallery, "How to Style Your Pearls" for some wonderful ideas from some our fashion consultants. We encourage Women to download or screen shot their favorite fashion image and leave it for someone to find (hint hint). And we also have a "wish-list" option offered on any page in case someone needs suggestions (hint hint again :)).

What goes into creating Naughton Braun demi-fine pearl jewelry?
Freshwater Pearls – Naughton Braun offers a full palette of the highest quality freshwater pearls that extends to nearly every size, shape, lustre and hue. Our unique buying capabilities allow us to offer, from the source, not only re-imagined pearl jewelry classics, but also what's new and evolving in the pearl world. All of our jewelry is crafted by skilled artisans. C'mon along with us!
Silk – Our real pearl jewelry is individually hand-crafted using the finest silk thread, in colors complementary to our pearls. The silk knots show respect for the pearls by keeping them from rubbing together and thus creating wear on the nacre. Different weights of silk are chosen by the size of the pearl and the corresponding drill hole. The strong luxury of the silk allows the weight of the pearls to do their job creating the fluid drape of our pieces.
Gems – Semi-precious gems and unique stones add beautiful adornment and complexity to Naughton Braun pearl jewelry pieces, not found anywhere else. Cabochon or faceted, we choose stones from all over the world.
Handmade – All Naughton Braun demi-fine pearl jewelry pieces are designed to be breath-taking and are individually handcrafted by skilled artisans with extensive quality control management at each step of the process. We use Sterling silver or non tarnishing mixed metals chains, clasps, and beads with pure silk, hand-knotted between each pearl to provide superior tensile strength for the necklace and a fluid drape on the neck. Our clasps feature rare earth magnets, toggles, box, lobster, and Sterling pave or jeweled multi-strand closures. And finally, all of our genuine pearl jewelry arrives packaged in a lovely velvet bag, perfect for preserving your purchase or for presentation as a memorable gift!

Is Naughton Braun Social?
Social Media - We love to be social and share! So find us on FaceBook, Pinterest, Instagram, and Twitter @Naughton Braun and be sure to share your photos and thoughts with us. We love to hear from you! We also have our own YouTube channel, where we share informational, inspirational, and entertaining videos all about pearls and people who love them!
Ambassadors: Join the Fun!



Who – Naughton Braun Pearl Jewelry Ambassadors are our enthusiastic supporters that share our love of exquisite pearl jewelry and are more than happy to talk about it in person or when they are social!
What – When Naughton Braun Pearl Jewelry Ambassadors shop, they share their excitement for our jewelry by providing personal shopping recommendations to boutiques and retail establishments.
Where – Ambassadors shop where you shop, and share where you share, either at the boutique, bridal shop, or mall, or online at Pinterest, Facebook, Twitter, or Instagram.
How it Works – Naughton Braun Pearl Jewelry Ambassadors begin by registering on this Website to provide us with their basic contact and social information. Every time they visit a boutique or retailer and share their excitement about our products or our social impact philosophy with the proprietors, through word of mouth, social media, pictures, or by wearing beautiful Naughton Braun pearl jewelry. They then have the opportunity to return to this Website and tell us via a brief form about that encounter. If the boutique or retail establishment places an order for Naughton Braun jewelry, the Ambassador will receive a special code for a one-time purchase of 50% off the retail price of any one item.
Social Impact & Social Responsibility



Women for Women – Naughton Braun believes that Women empower Women and our business model utilizes a global enterprise system that empowers Women at all stages, resulting in elegantly crafted, pearl-centric jewelry for the discriminating retail and wholesale buyer. We take pride in our jewelry and in our philosophy and welcome you to peruse our products. We encourage other Women who might like to partner with us to get in touch at HiPretty@naughtonbraun.com. We have worked with several organizations/bloggers including Momtrends, Preppy Mom, Pawsitive Living, Girl Gets Wed, LGBT Weddings - UK, Epicnomenal, Jewelry Trends, and Komen. We have recently started to partner with Instagram influencers and we are happy to announce that The Spicy Cocktail is showing our jewelry to a very interested younger audience of women who also want to be on the cutting edge of pearl jewelry style!

Charity Collections – From time to time Naughton Braun will create a special piece whose proceeds will benefit the charity for which it was created. In this way we hope to give back to our inspirations and pay it forward to worthy causes. Contact us at HiPretty@naughtonbraun.com to start a conversation to advance social "good". We love to bring smiles to people and with pearls,we can give smiles that last long after the event!

____________________________________________________________________________________________
PARTNERS @ Naughton Braun



Bernadette Braun - An avid traveler who's 10+ years of design featuring pearls created a following among family, friends, acquaintances and women who have literally followed me at an event, on an elevator, and even to the ladies room to ask about the piece I was wearing. Our longtime friendship and partnership centers on our philosophy of wanting what is best for each other and for our loyal customers. I focus on travel-inspired pearl design incorporating the latest trends from world runways and cute back alleys. I also ensure the highest quality control on all of our designs at all stages of our real pearl design, composition, and artisan handcrafted production processes so that the freshwater pearl jewelry delivered to you exceeds all your expectations!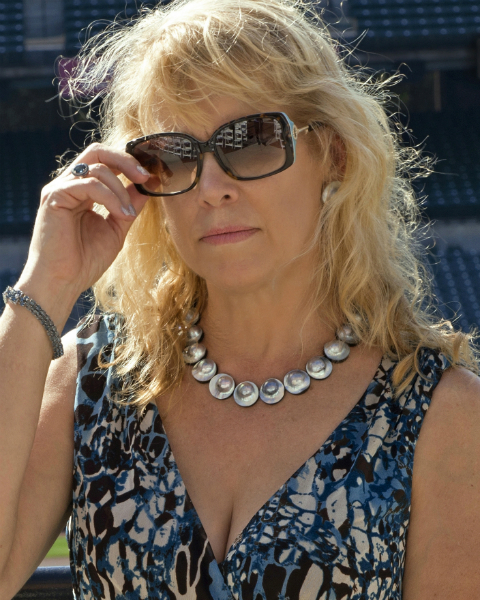 Stacieann Yuhasz, PhD - A scientist turned entrepreneur with a passion for fine freshwater pearl jewelry, working in collaboration with my partner Bernadette, based on a sisterhood that developed when our young Sons were learning to become Sabre fencers. Working the business side of our design house, I am the person who handles the social media marketing team, the Website team, and our wonderfully savvy stockists. And if you ever need to talk to somebody who knows pearls, our teams will put you in touch with me, pronto!
PEARLS, Fine PEARL Jewelry, Luxury, Luxurious PEARL Jewelry, PEARL Earrings, PEARL Necklaces, PEARL Bracelets, PEARL jewelry with semiprecious stones, cultured freshwater pearls, handcrafted, silk thread, based in North Carolina, NC, Lake Norman, Freshwater PEARLS, Velvet Pouch, Velvet bag, Artisan, amazing, fine jewelry, fine PEARL jewelry, stunning pearl jewelry, hand-knotted silk between each pearl, lustre, beautiful PEARLS, luster, luminous PEARLS, fashionable PEARLS, PEARL and semi-precious gemstone earrings, PEARL and semi-precious gemstone necklaces, PEARLS, Fine PEARL Jewelry, Luxury, Luxurious PEARL Jewelry, PEARL Earrings, PEARL Necklaces, PEARL Bracelets, PEARL jewelry with semiprecious stones, handcrafted, silk thread, based in North Carolina, NC, Lake Norman, Freshwater PEARLS, Velvet Pouch, Velvet bag, Artisan, amazing, fine jewelry, fine PEARL jewelry, stunning pearl jewelry, hand-knotted silk between each pearl, lustre, beautiful PEARLS, luster, luminous PEARLS, fashionable PEARLS, PEARL and semi-precious gemstone earrings, PEARL and semi-precious gemstone necklaces, PEARLS, Fine PEARL Jewelry, Luxury, Luxurious PEARL Jewelry, PEARL Earrings, PEARL Necklaces, PEARL Bracelets, PEARL jewelry with semiprecious stones, handcrafted, silk thread, based in North Carolina, NC, Lake Norman, Freshwater PEARLS, Velvet Pouch, Velvet bag, Artisan, amazing, fine jewelry, cultured freshwater pearls, fine PEARL jewelry, stunning pearl jewelry, hand-knotted silk between each pearl, lustre, beautiful PEARLS, luster, luminous PEARLS, fashionable PEARLS, PEARL and semi-precious gemstone earrings, PEARL and semi-precious gemstone necklaces
Save
Save
Save
Save
Save
Save
Save
Save
Save