Style is PERSONAL;

but EVERYONE wants tips on doing something new or re-

imagined, right?

What does the white shirt expert say?

"I have been wearing a white blouse all my life…They are

classic with a modern twist and they are very feminine, for a

real woman. It is about simplicity — they don't look

complicated — it has to look effortless."

Carolina Herrera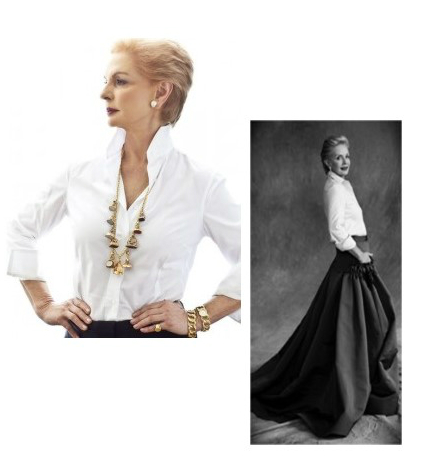 Photos from Pinterest
So that's helpful, BUT HOW??
Think of a classic white shirt. Most of us have one or more in our closet, and even if we don't wear them on a regular basis, they are a really nice go-to for that morning when nothing else in that closet remotely appeals to you. I can't tell you how many times I have looked through my closet, (it is organized professionally in a rainbow spectrum of shirts, pants, jackets, and the occasion skirt and dress), and end up in the "white" section deciding which white it will be today. I have cuffed white shirts, sleeveless white shirts, pin-tucked white shirts, standard "dress" white shirts, and several with interesting sleeves, including my perennial favorite, a ¾ length fitted sleeve white shirt. Some are fitted and some are loose, collared or not, and all pair perfectly with pearls for my casual and professional endeavors. And for me, a major plus for any white shirt, is both a bit of stretch in the fabric as well as a medium density material (no-iron is also the way to go) so that no underpinning is necessary (think Victoria Secret kept under wraps). I also favor princess seaming or darting, as in the close-up of Carolina Herrera, because it helps slim a figure and we all like that!
Now mind you, white is not always "pure white", but many times entails a softer off-white (think all the possibilities of "white wedding gowns"), cream, pale yellow, pale blue, or pale rose as pure white does not reflect well on all skin types. But nevertheless, a white shirt needs something, a truly special necklace, to enhance both the shirt and finish the outfit. And we have several suggestions for you in our video. In the video we feature a classic white structured collar (reflects your pretty face, like putting your face in a frame) pin-tucked fitted long sleeve pure white shirt with six different necklace suggestions, included several rope or lariat style necklaces, and a few princess length necklaces (see the figure from Jonelle Maira and her Design Thrift Blog for necklace length examples).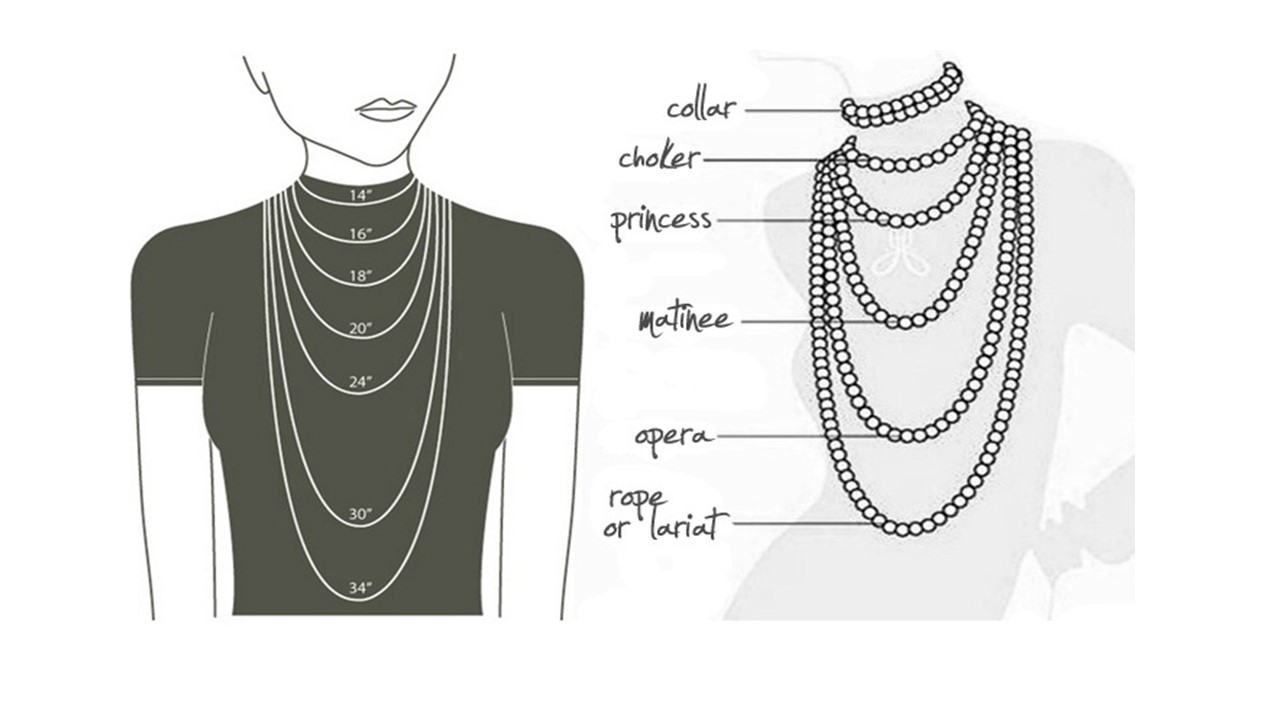 Image via Jonelle Maira, Design Thrift.( https://www.craftsy.com/blog/2015/06/necklace-length-guide/)
And our necklaces are not simple strands of white or pink pearls, but instead are re-imagined classics, bursting with color and texture to compliment and coordinate that white shirt with your slacks, skirt, or shorts!
Our Re-imagined Naughton Braun Classics:
Top Left to Right: Charbonnel - Pearl Necklace, Maldives - Pearl Necklace, Andora - Pearl Necklace
Bottom Left to Right: The Tibet Set* - Pearl Necklace, Cotton Club Collection* - Hematite and Pearl Jewelry, Pennsylvania Avenue - Pearl Necklace
For the video the collar is folded, but most often I wear the collar popped in the back or all the way around as modeled by Carolina Herrera, enhancing the face-framing effect. Finally a bit more on underpinnings, for the professional and casual settings. Minimizer bras work wonders at redistributing and balancing the bust fullness, thereby minimizing the potential for peek-a-boo puckers among the buttons, so critical in a professional environment. Also recommended are skin-toned bras and if the fabric is exceptionally sheer, a skin-toned camisole. In addition, a full-length shirt (slightly above the natural crease in your hips) and statement size necklace also serves to minimize the bust and balance the look so that your proportions are perfect! While smaller busted women need not be concerned with puckering around the buttons, good underpinnings with a slightly fitted shirt will allow the shirt to lay more evenly across the tummy and cascade elegantly.
In a casual setting, or an evening out, breaking the bra-must-match-the-skin-rule can go right out the window and instead serve as an interesting counter-point to your slacks or shirt!
So color, including metallics are really something to consider if you want to kick it up a notch for under that traditional white shirt, which also implies leaving the top 2-3 buttons undone (a little sexy never hurt anyone). And since so many bras today are rich extensions of our fashion wardrobe, it just might be something new to consider.
I have included a few suggestions for white shirt shopping options in case you are in need of a new white shirt as well as some of my favorite Pinterest sites demonstrating white shirt fashion. Within those posts are a few pictures of Princess Di, and those shots really drove home for me the classic elegance fit for the princess in all of us!
Your New White Shirt can be Found Here: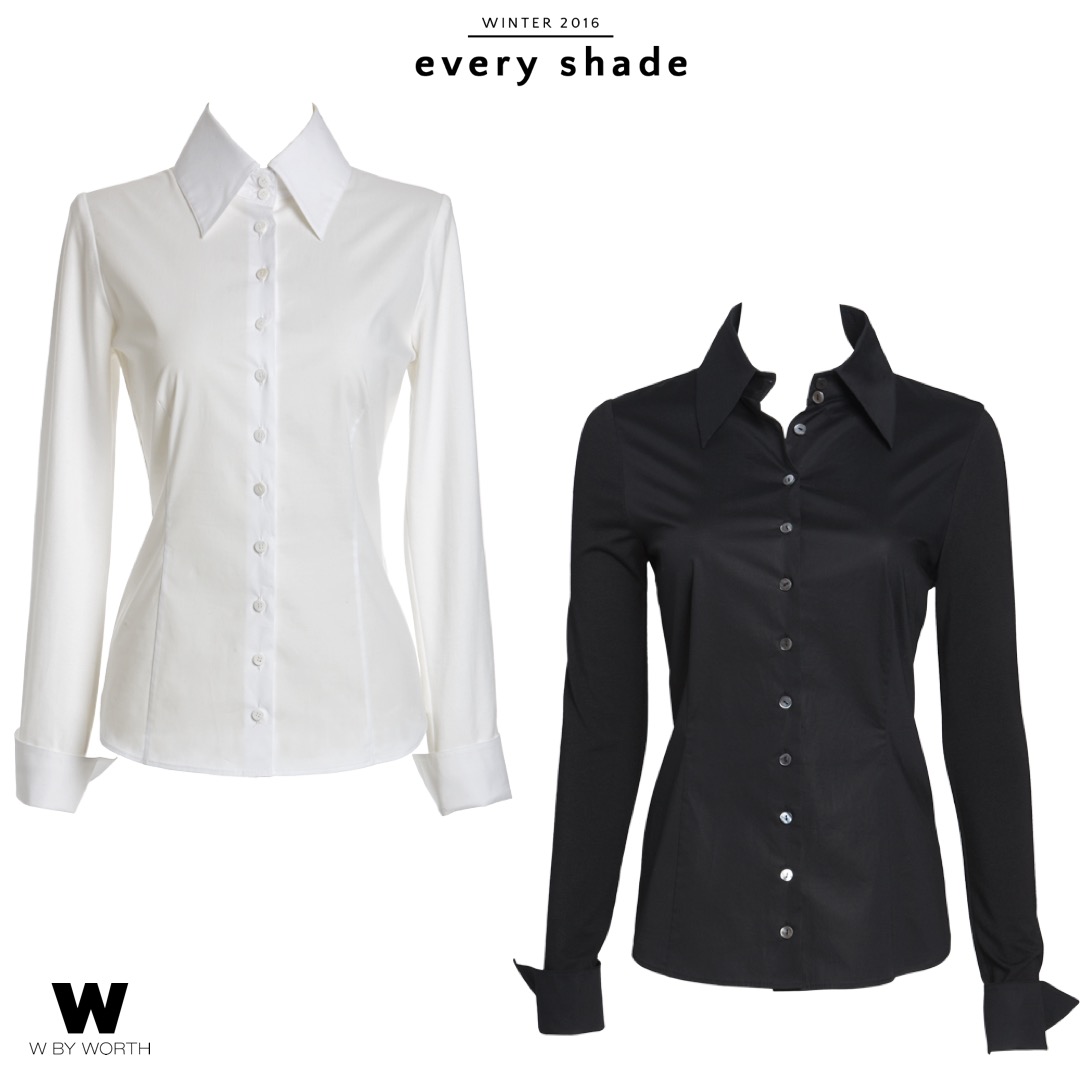 http://www.wbyworth.com/Janet-Majev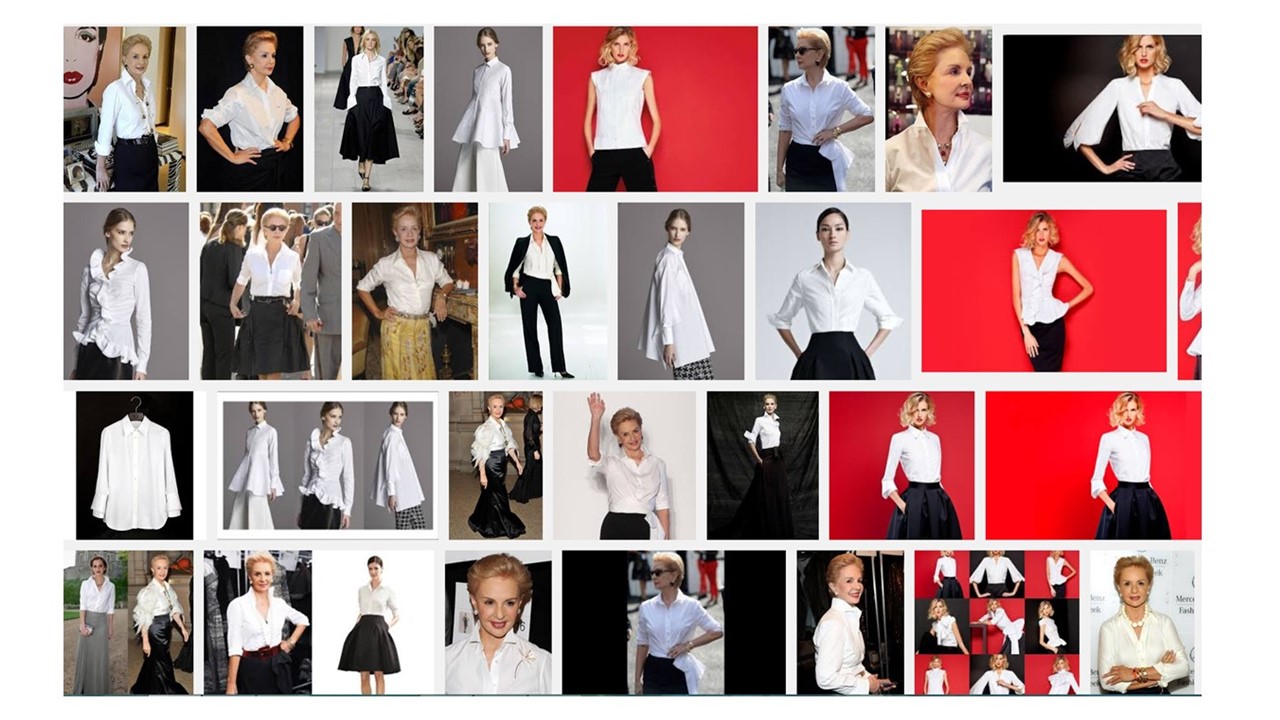 http://www.carolinaherrera.com/fashion/carolina-herrera/fall-2016/women-fall-2016/the-white-shirt/ (taken from Google images, 11/14/2016)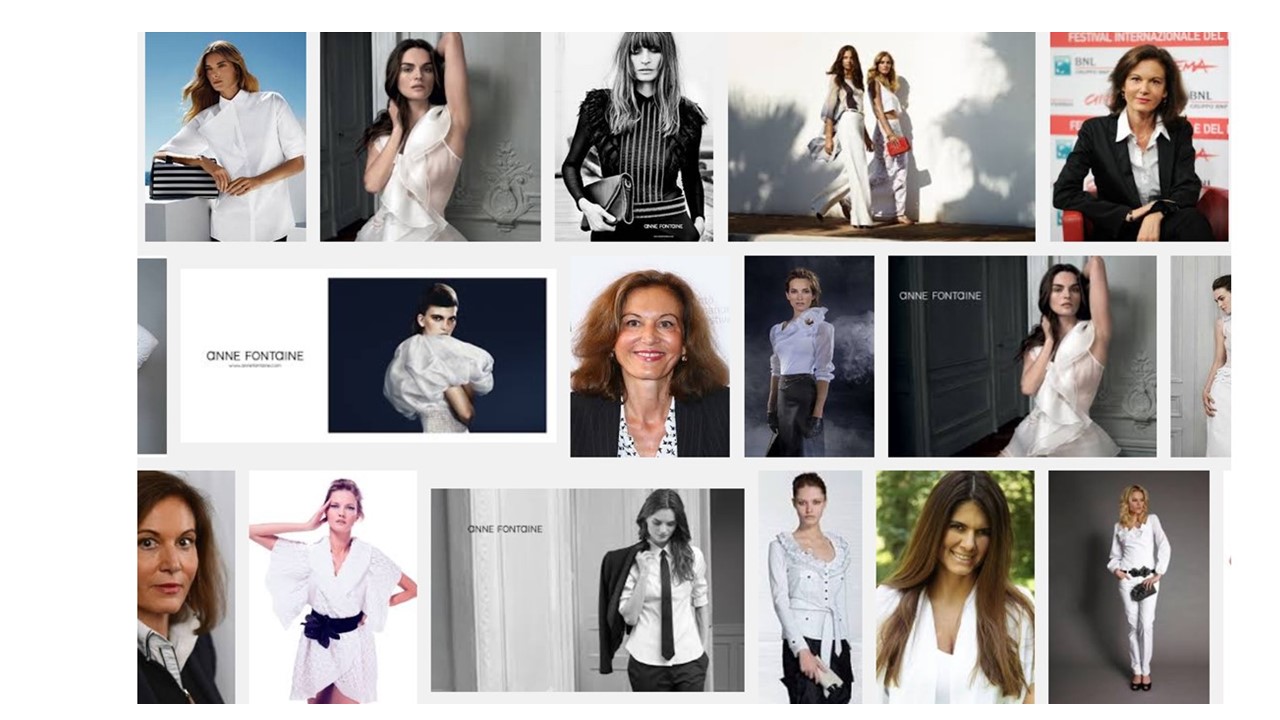 https://www.annefontaine.com/ (taken from Google images 11/14/2016)
Pinterest Sites and Blogs for Further Viewing:
https://www.pinterest.com/lesliewillmott/the-white-shirt/
https://www.pinterest.com/explore/white-shirts/
http://www.thesimplyluxuriouslife.com/style-inspiration-the-classic-white-shirt/
http://youlookfab.com/2012/05/23/sleeves-that-stay-scrunched/?utm_source=feedburner&utm_medium=feed&utm_campaign=Feed:+Youlookfab+(youlookfab)&utm_content=Google+Reader
http://yablor.ru/blogs/bit-dramatik-klassikom-david-kibbe-/4163035
http://www.callingithome.com/blog//2013/11/14000-things-about-me.html

Links to the Naughton Braun Pearls in order from the top left:
Charbonnel - Pearl Necklace: https://naughtonbraun.com/charbonnel-pearl-necklace/
Maldives Pearl Necklace Accented with Stones: https://naughtonbraun.com/maldives-pearl-necklace-accented-with-stones/
Andora - Pearl Necklace Accented with Stones: https://naughtonbraun.com/andora-pearl-necklace-accented-with-stones/
The Tibet Set* - Pearl Necklace Accented with Stones: https://naughtonbraun.com/the-tibet-set-pearl-necklace-accented-with-stones/
Cotton Club Collection* - Hematite & Pearl Jewelry: https://naughtonbraun.com/cotton-club-collection-hematite-pearl-jewelry/
Pennsylvania Avenue - Pearl Necklace: https://naughtonbraun.com/pennsylvania-avenue-pearl-necklace/
PEARLS, Fine PEARL Jewelry, Luxury, Luxurious PEARL Jewelry, PEARL Earrings, PEARL Necklaces, PEARL Bracelets, PEARL jewelry with semiprecious stones, cultured freshwater pearls, handcrafted, silk thread, based in North Carolina, NC, Lake Norman, Freshwater PEARLS, Velvet Pouch, Velvet bag, Artisan, amazing, fine jewelry, fine PEARL jewelry, stunning pearl jewelry, hand-knotted silk between each pearl, lustre, beautiful PEARLS, luster, luminous PEARLS, fashionable PEARLS, PEARL and semi-precious gemstone earrings, PEARL and semi-precious gemstone necklaces, PEARLS, Fine PEARL Jewelry, Luxury, Luxurious PEARL Jewelry, PEARL Earrings, PEARL Necklaces, PEARL Bracelets, PEARL jewelry with semiprecious stones, handcrafted, silk thread, based in North Carolina, NC, Lake Norman, Freshwater PEARLS, Velvet Pouch, Velvet bag, Artisan, amazing, fine jewelry, fine PEARL jewelry, stunning pearl jewelry, hand-knotted silk between each pearl, lustre, beautiful PEARLS, luster, luminous PEARLS, fashionable PEARLS, PEARL and semi-precious gemstone earrings, PEARL and semi-precious gemstone necklaces, PEARLS, Fine PEARL Jewelry, Luxury, Luxurious PEARL Jewelry, PEARL Earrings, PEARL Necklaces, PEARL Bracelets, PEARL jewelry with semiprecious stones, handcrafted, silk thread, based in North Carolina, NC, Lake Norman, Freshwater PEARLS, Velvet Pouch, Velvet bag, Artisan, amazing, fine jewelry, cultured freshwater pearls, fine PEARL jewelry, stunning pearl jewelry, hand-knotted silk between each pearl, lustre, beautiful PEARLS, luster, luminous PEARLS, fashionable PEARLS, PEARL and semi-precious gemstone earrings, PEARL and semi-precious gemstone necklaces