What is an Edison Pearl & Why Do I Want It?
Edison Pearls 101: 10 Questions & Answers - 2020
Short answer: More Shiny (Think Metallic) for the Money!

In the pearl business, especially when you have your pearls appraised (which we ALWAYS recommend), the more nacre (what makes the pearl a pearl) generally equates to a higher value in your appraisal. These are a few additional assumptions, like the smoothness, evenness, etc. but for the sake of argument, more is better!
More nacre that is.
And the more and the better quality the nacre, the longer your pearls will retain their lustre and you'll wear them as will your Daughter(s) and Grand-Daughters (especially if they are not "boring" pearls).
So here are the answers to your Edison Pearl Questions:

1. Why do I want Edison pearls?
Simple, because they provide more nacre and more shine (some are downright metallic) and more glow for less money than rival pearls of the same quality (Tahitian, Akoya, or South Sea pearls). They can be very round and very lustrous and very affordable for every day wear. They are real cultured pearls. And they are the newest and hottest pearls on the market. Most "downtown and chain" jewelry stores do not carry these pearls...
But YOU can find them online at Naughton Braun with:
No red carpet price-points for Edison pearl necklaces!
Think $12K (Akoya) vs ~$1K for a magnificent necklace (see https://naughtonbraun.com/denali-white-pearl-necklace-with-biawa-pendant/).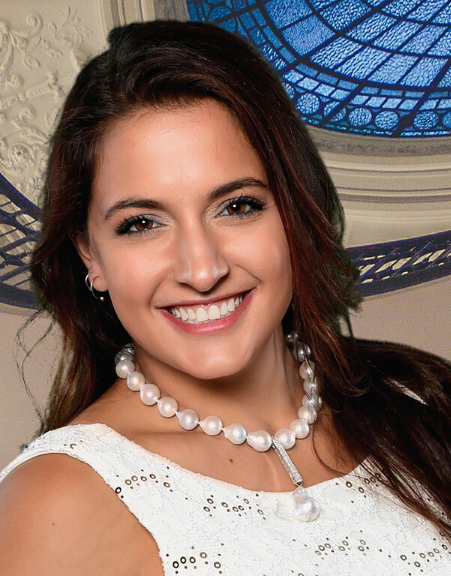 2. Why do they have more nacre?
It's how they are made, in a propriety process developed by a brother and sister team in China, Weijian and Weiyu Zhan. The mollusks are "selected through genetic research and are implanted with tiny beads instead of mussel tissue" (Bradsher, 2011).
The Zhan family has over 40 years' experience in perliculture (growing cultured pearls) and they wanted to develop and refine a process by which they could grow large, round, freshwater shiny pearls that look as good as the very expensive Akoya, South Sea, or Tahitian pearls (grown in sea water).
But from what we do know about their secret process, they use a very small bead and place only 1 in the mollusk which is grown in freshwater and in 2-7 years harvest a spectacular pearl (Wikipedia, 2020)!
3. What does this nacre look like in an Edison pearl versus a cultured or natural pearl?
A picture is worth a thousand words, so see how a smaller bead equals a larger amount of nacre (think more shiny). This is what makes Edison pearls unique!
The blue center is the implanted bead. In Edison pearls the bead is tiny while in regular cultured pearls the implanted bead is much larger. So the larger the implanted bead, the thinner the nacre. Natural pearls have no implanted bead at all.
Most of the time "natural pearls" are not perfect, round balls...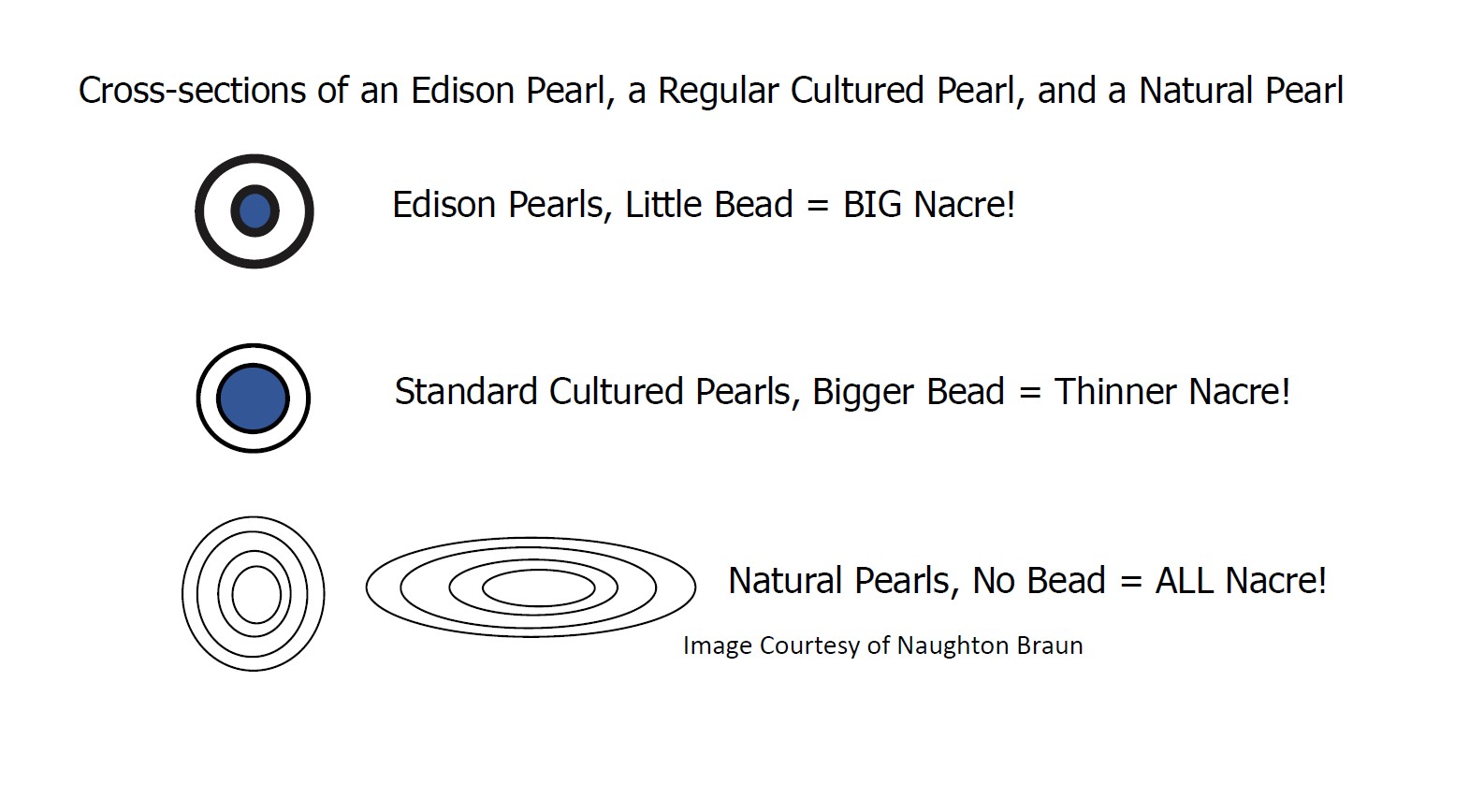 4. So then natural pearls are all nacre?
Yes, but because they don't grow from an implanted bead they are very "organic" in shape, i.e. typically not round balls.
At Naughton Braun, we offer stunning keshi pearls which are SOLID nacre (remember more nacre = greater value) and many take the shape of simple leaves or kitten-paws.
See some beautiful keshi pearls : https://naughtonbraun.com/peachtree-street-keshi-pearl-triple-strand-necklace/ and https://naughtonbraun.com/lavender-fields-provence-keshi-pearl-necklace-triple-strand/ and https://naughtonbraun.com/sakura-keshi-pearl-flower-earrings/ .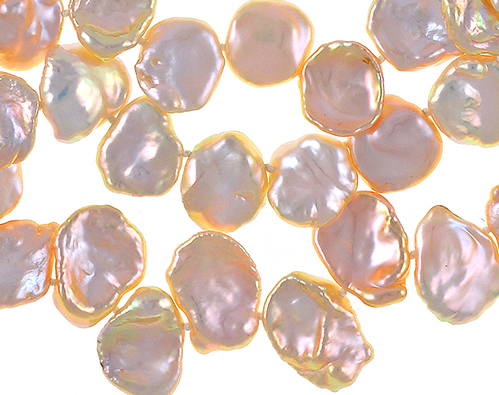 5. Why are they called Edison pearls?
Ahhh, that's because of a famous quote from Thomas Edison (you know, the light bulb guy):
"There are two things which couldn't be made at my laboratory — diamonds & pearls."
—- Thomas Edison
Nice way to honor him, right? Ready to add some "illumination" to your jewelry box???
6. Why are the less expensive?
Because you can grow more of them in a smaller space.
Perliculture success depends heavily on mass production which the Chinese are famous for. From a recent New York Times article: "A Chinese half-inch pearl now sells for $4 to $8 at wholesale, which is typically less than half of the retail price. A Tahitian pearl of similar size sells at wholesale for $25 to $35" (Bradsher, 2011).
7. Can Edison pearls be colored?
Yes they can be and because they are grown in cultivated ponds (rather than the ocean like Akoya, South Sea, or Tahitians) the farmers can control the factors that they add to water to influence the color of pearls that that genetically-modified mollusk makes.
Specifically, color is influenced by "microelements in the water, water temperature, water pH value, and composition concentrations which mainly depend on the cultivation technology" (Smith 2018).
Crafty science, right?
See pink-gold Edisons: https://naughtonbraun.com/cherry-blossom-pink-edison-pearl-necklace/ .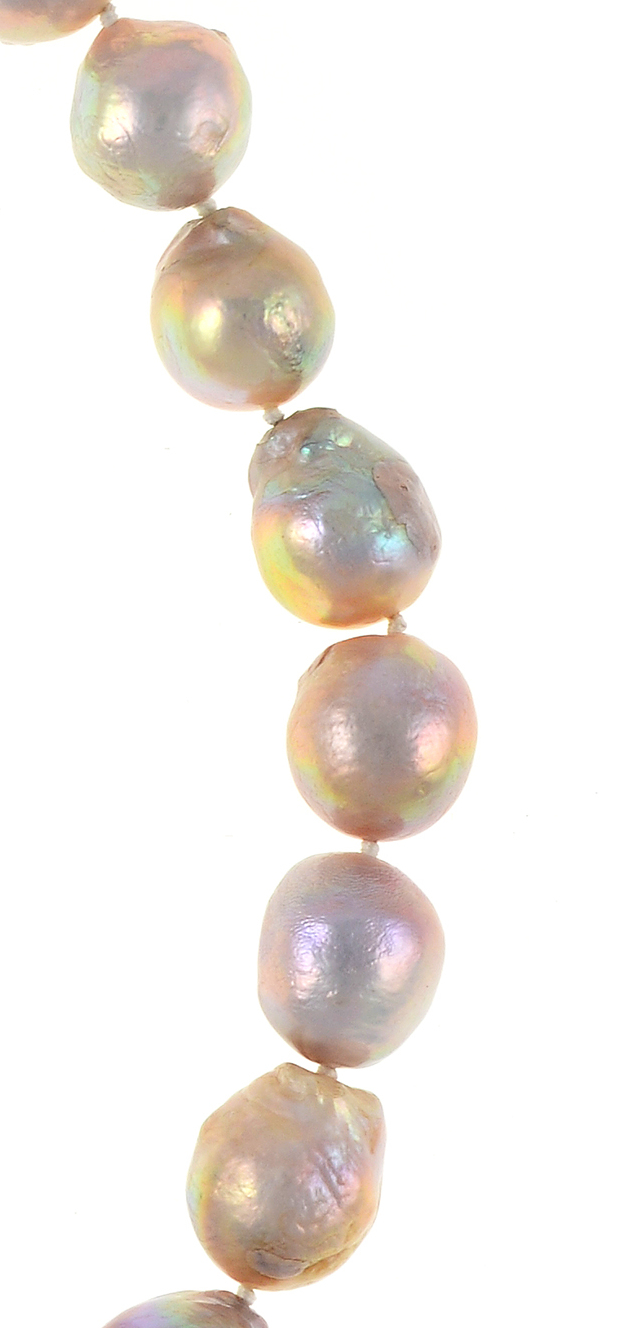 8. Are Edison Pearls Always Smooth?
Nope (see picture above).
All pearls are natural products so some Edison pearls come out rippled or textured.
The KEY is to have a piece of jewelry with MATCHING Edison pearls so that the overall effect blends and brings Feng Shui harmony to the jewelry and the wearer!
See these earrings to see what we mean about texture: https://naughtonbraun.com/tokoriki-white-edison-pearl-earrings/ .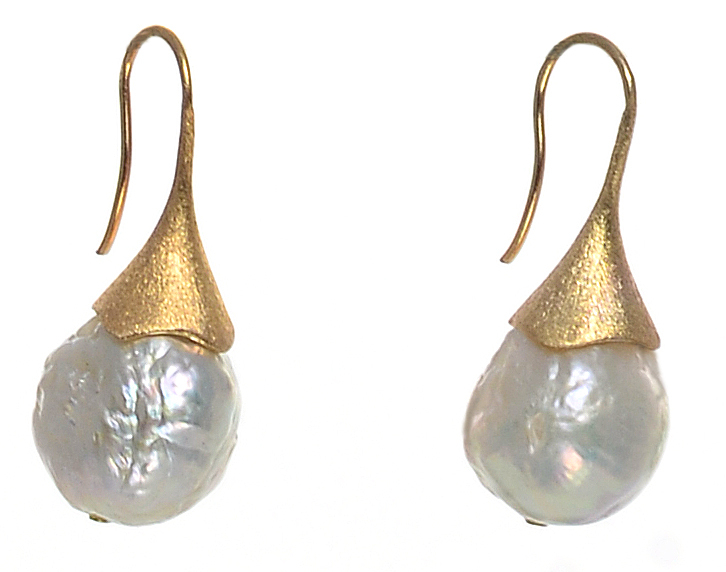 9. Do you take care of Edison Pearls like regular pearls?
Yes!
They are a little more hardy due to the thicker layers of nacre but for more information on handling your Edison (or any other pearl) see: https://naughtonbraun.com/guide-to-pearl-jewelry-care-safe-keeping/ .
10. Can I afford Edison pearls?
YES YOU CAN!
12mm white Edison pearl earrings (bigger than a standard Tylenol white tablet) in gold vermeil (Magnolia - White Edison Pearl Drop Earrings) are available under $150.00 ( https://naughtonbraun.com/magnolia-white-edison-p... ) and most solid strand Edison pearl necklaces (again 12-14mm, marble size) can be had at under $1.5K. For comparison, I have a single strand of South Sea pearls (9mm) that are $6.5K. You do the math.
So what is stopping you from at least checking out Edison pearls? Google them or simple type in "Edison" in the Naughton Braun search bar to see our fine collection of earrings and necklaces featuring this HOT, Hot, hot pearl! And if you have more questions about Edison pearls or any other type of pearl, drop us a line at HiPretty@naughtonbraun.com and we'll get back to you pronto!
References:
NYTimes article: Pearls, Finer but Still Cheap, Flow From China
https://www.nytimes.com/2011/08/02/business/global/chinas-high-quality-pearls-enter-the-mass-market.html
Edison Pearls Vs South Sea Pearls: The Four Main Differences
By Sharon Smith
Jan 21, 2018
https://medium.com/@smith.sharon2017/edison-pearls-vs-south-sea-pearls-the-four-main-differences-ec174ec6a3f2
Wikipedia Cultured pearl
Accessed Jan 23, 2020