Stumped on what to get your Wife, Mother, Sister, Daughter, Aunt, Friend, Lover, or Office-Bestie this holiday season?

Are these some of YOUR holiday gift-giving questions?

How do you know what they might like? How can you choose? How do you order? Are pearls the answer?
We have ALL THE Answers! And we're willing to bet every Woman on your holiday shopping list would be smitten with the gift of pearl jewelry this season! Whatever budget you're working with, we've curated a pearl jewelry guide guaranteed to please every Woman on your list. Shop our 2021 Pearl Jewelry Holiday Gift Guide, but fair warning: These pieces are seriously stunning!
Let's face it after almost 2 years of pandemic we're ready to gift and give something wonderful, pretty, and totally awesome. A piece of pearl jewelry that SHOUTS re-imagined! No single white strands here. Something with staying power that will be worn over & over with tender thoughts of your lovely, generous, & truly thoughtful pretty pearl gift.

Q1. How do you know what they might like? Simple we've broken the 2021 Pearl Jewelry Holiday Gift Guide down into 6 great gifting categories:

1. Gifts with Glitz (pearls with shiny pretty CZs, brass, or pavé)
2. Stylish Stocking Fillers (pearl & gemstone jewelry that's priced to meet even the budgets of 5 yr olds)
3. Chic Contemporary (conversation starter pieces blending great modern design with flair and personality)
4. Demi-fine Delights (the hallmark pieces of the Naughton Braun collection made to be worn from the soccer field or tennis court [or pickelball if that's your thing] to the boardroom or those infamous ZOOM call meetings)
5. Something Truly Timeless (show-stopping, elegant pearls that WILL BECOME the centerpiece of her collection, worn over & over)
6. THE Gift of Choice (an e-gift card in any amount)
Q2. How can you choose? We can help! A hint, if you can, peek the current jewelry box to "see" what the "style" you loved one likes and then either email (HiPretty@naughtonbraun.com), text us (251 290-2416 [side-note, if you first text VIP to that same number you'll get 10% off by joining the ONLY Pearl VIP Club on the Web), or call us at 980 257-9220.

Q3. How do you order? Online at naughtonbraun.com. We accept Mastercard, VISA, American Express, AMAZON Pay (makes shopping SUPER-EASY [just use your Amazon login]) and PAYPAL.

Q4. Are pearls the answer? See below to find out!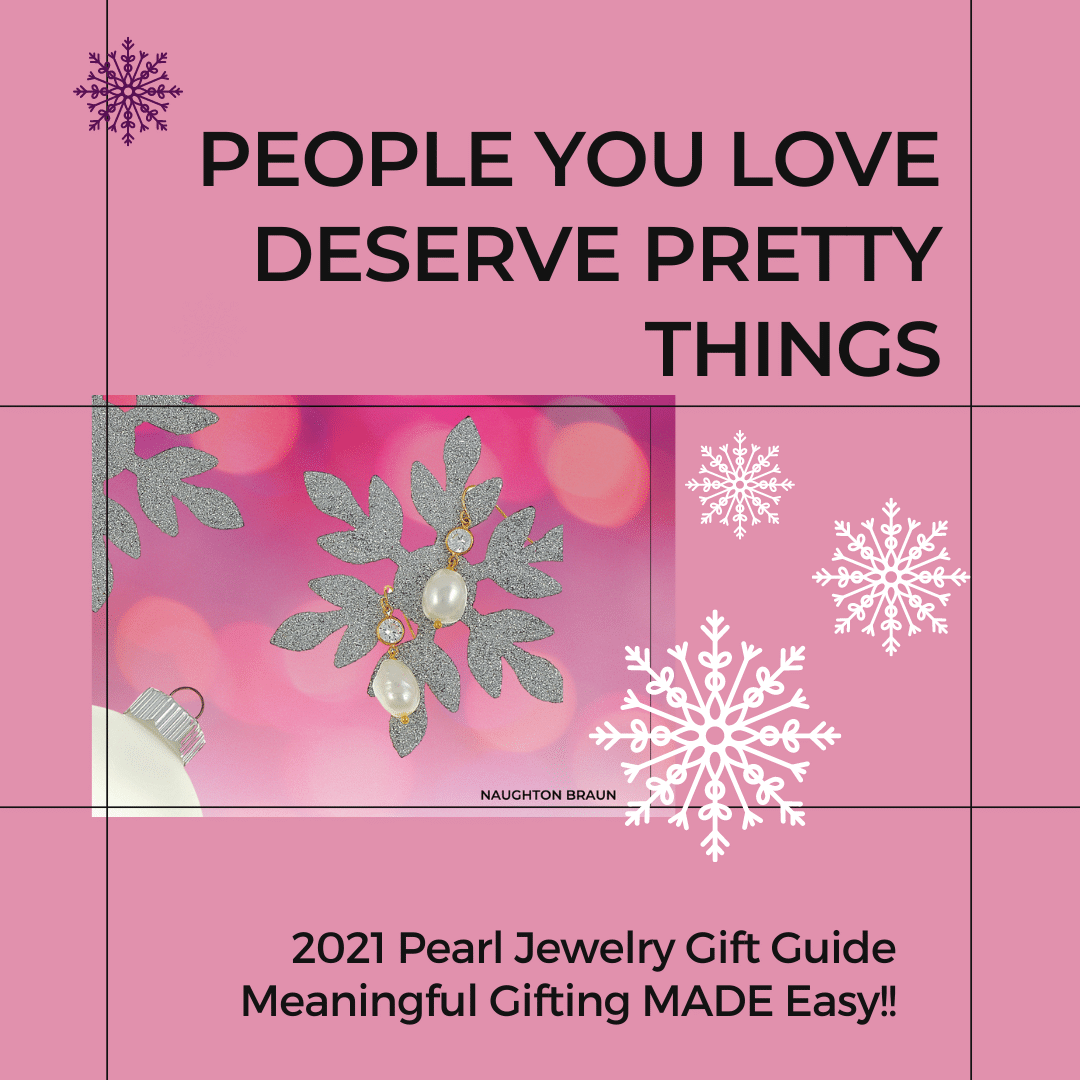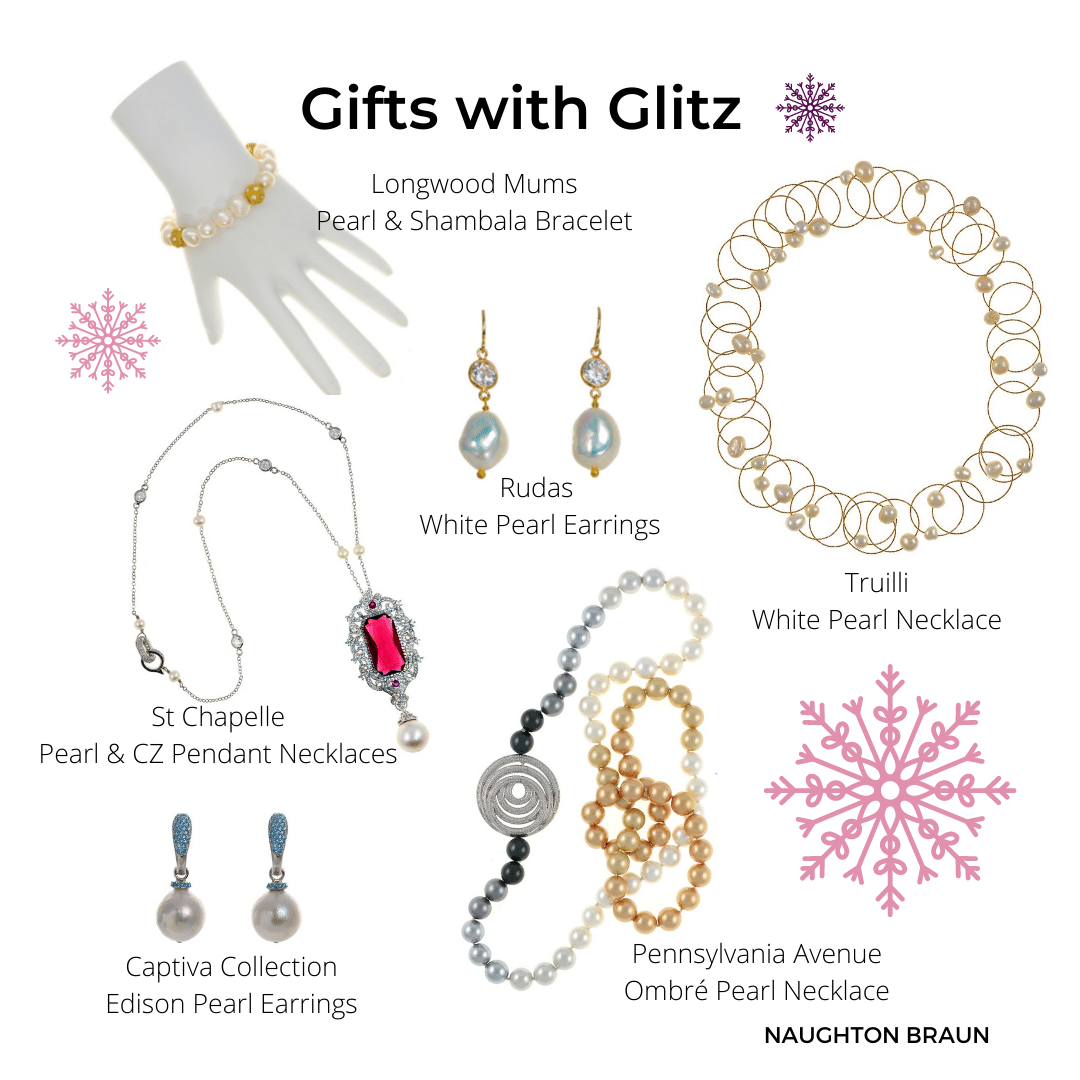 Longwood Mums - Pearl & Shambala Bracelet

Truilli - White Pearl Necklace
St Chapelle Pearl & CZ Pendant Necklaces
Captiva Collections Edison Pearl Earrings
Pennsylvania Avenue Ombre Pearl Necklace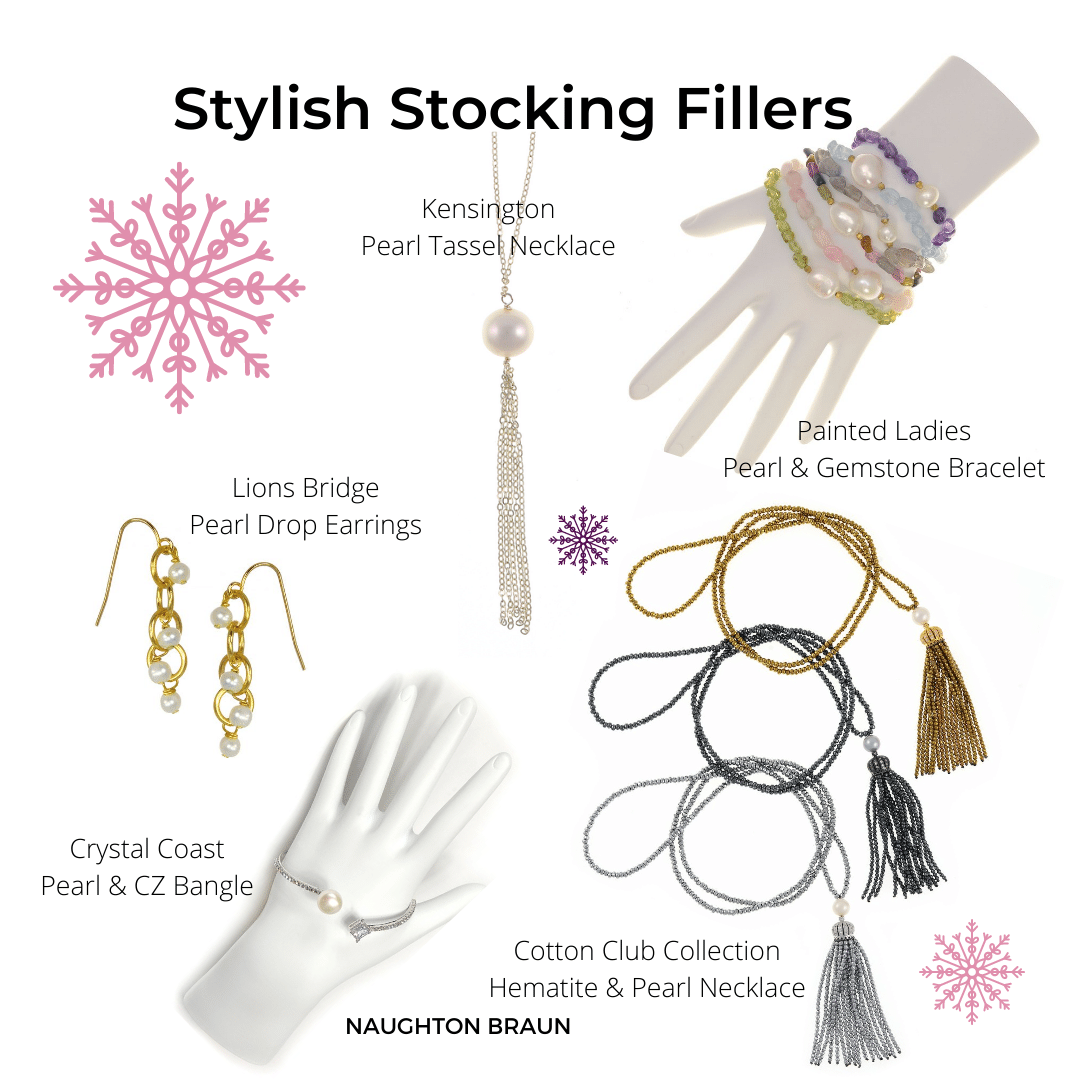 Find these here:
Kensington Pearl Tassel Necklace
Lions Bridge Pearl Drop Earrings
Painted Ladies Pearl & Gemstone Bracelets
Crystal Coast Pearl & CZ Necklace
Cotton Club Hematite & Pearl Necklace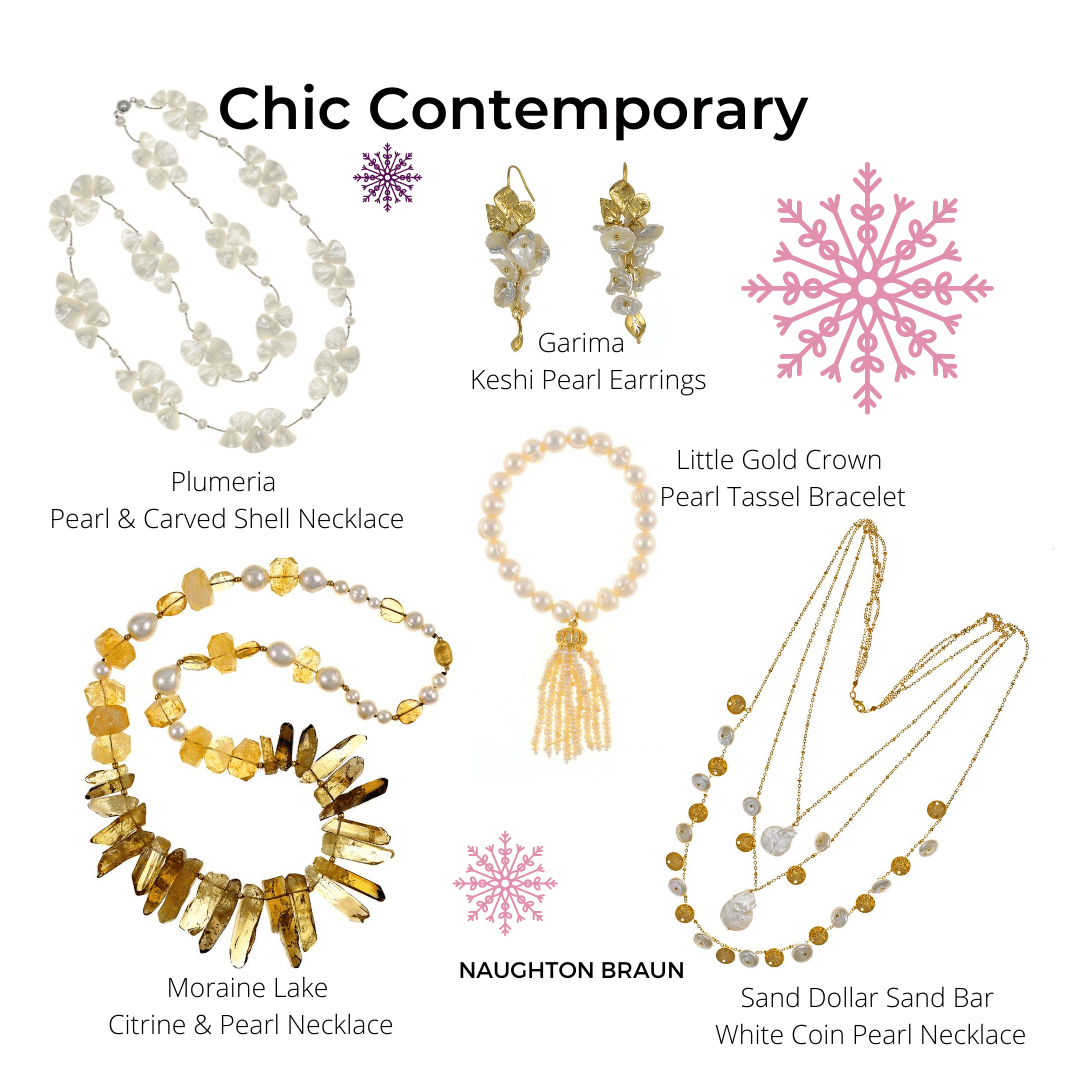 Find these here:
Plumeria Pearl & Carved Shell Necklace
Little Gold Crown Pearl Tassel Bracelet
Moraine Lake Citrine & Pearl Necklace
Sand Dollar Sand Bar White Coin Pearl Necklace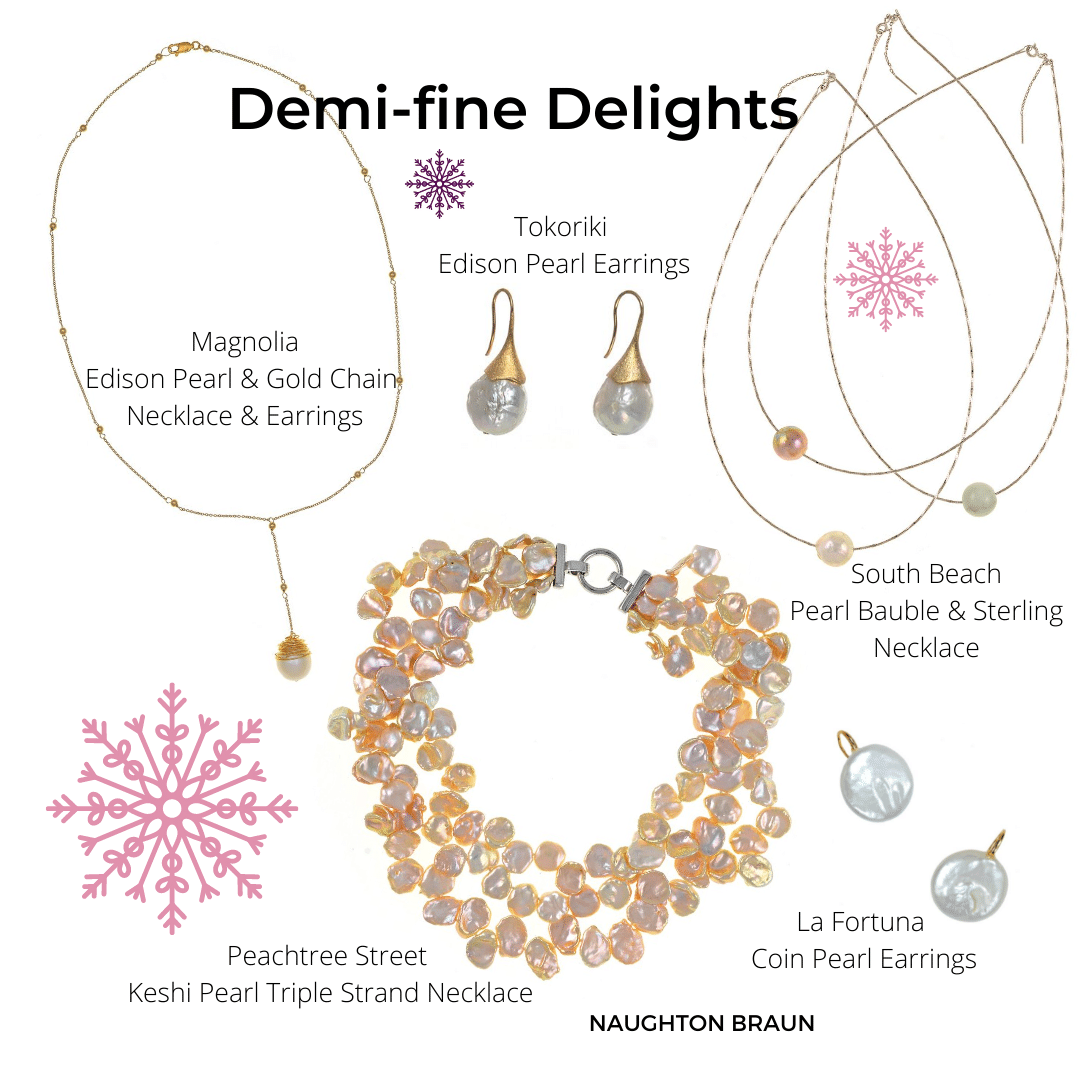 Find these here:
Magnolia Edison Pearl Necklace
Magnolia Edison Pearl Earrings
Tokoriki Edison Pearl Earrings
South Beach Pearl Bauble Necklace
Peachtree Street Keshi Pearl Triple Strand Necklace
La Fortuna Coin Pearl Earrings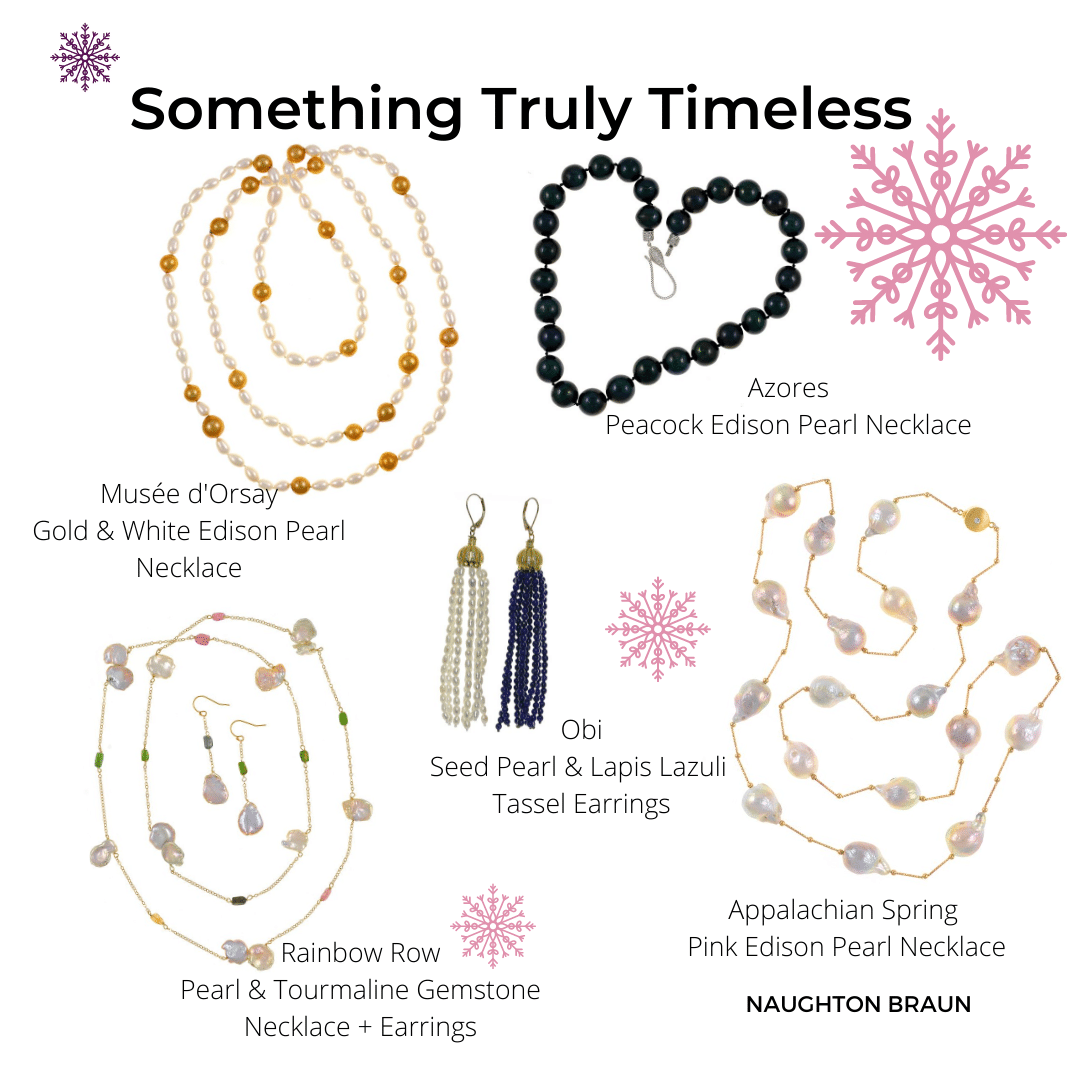 Find these here:

Musée d'Orsay - Gold & White Edison Pearl Necklace
Azores Peacock Edison Pearl Necklace
Obi Seed Pearl & Lapis Lazuli Tassel Earrings
Rainbow Row Pearl & Tourmaline Gemstone Necklace & Earrings
Appalachian Spring Pink Edison Pearl Necklace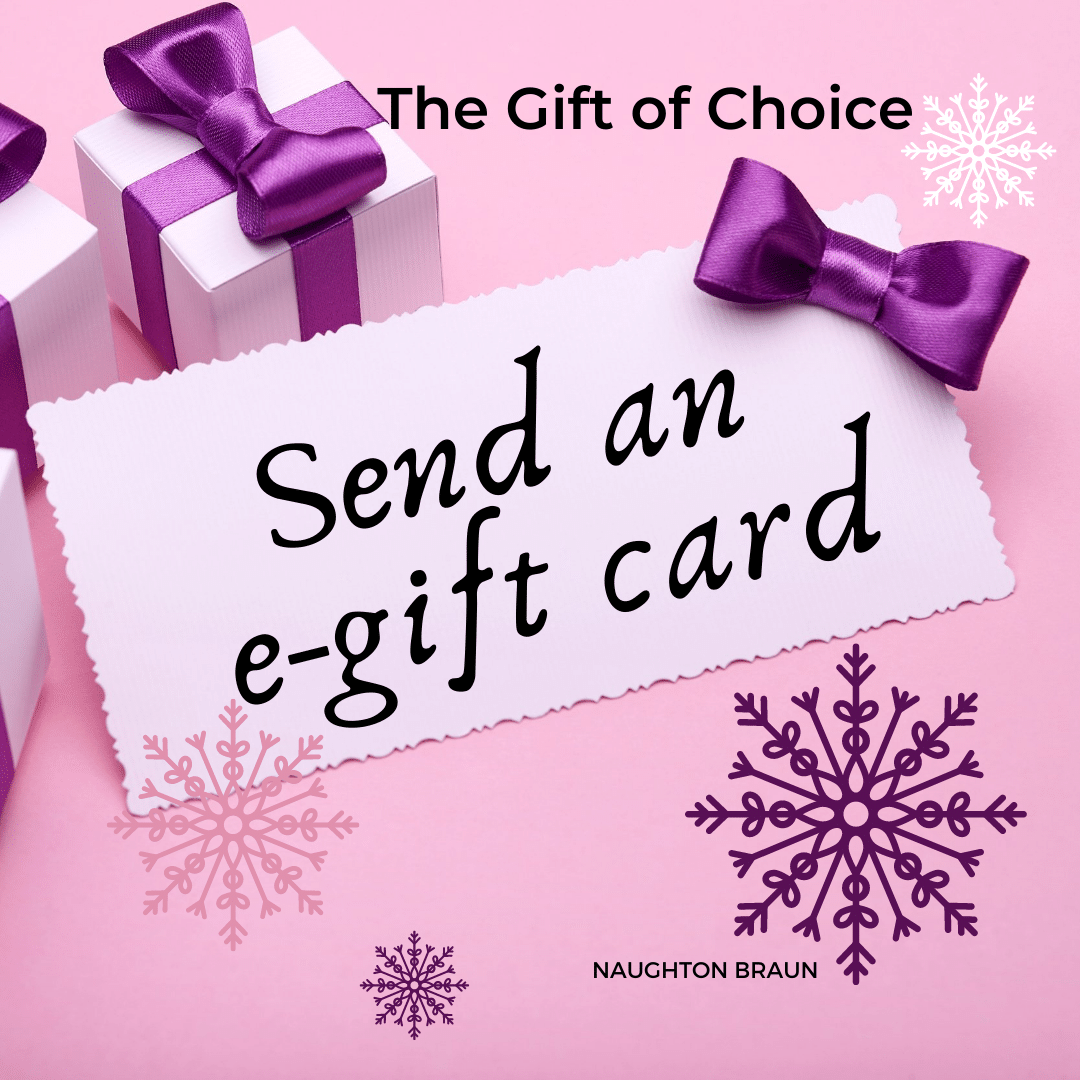 So let us know if we can help you with any of these pretty yet meaningful pieces from our curated 2021 Pearl Jewelry Holiday Gift Guide. But please note, many of our selections are limited and we would hate for you to set your heart on something only to find out that we are out of stock. So shop early and I'll be here to help if your need me. You might want to read some comments from our customers (See What Naughton Braun Customers Think About Their Pearl Purchases) at naughtonbraun.com (bottom of the page).
Stay well & enjoy your holiday shopping experience! Reach out if you need me ;)
Stacie